Viral manipulation of the cellular sumoylation machinery
Cell Communication and Signaling
2017
15:27
Received: 15 March 2017
Accepted: 7 July 2017
Published: 14 July 2017
Abstract
Viruses exploit various cellular processes for their own benefit, including counteracting anti-viral responses and regulating viral replication and propagation. In the past 20 years, protein sumoylation has emerged as an important post-translational modification that is manipulated by viruses to modulate anti-viral responses, viral replication, and viral pathogenesis. The process of sumoylation is a multi-step cascade where a small ubiquitin-like modifier (SUMO) is covalently attached to a conserved ΨKxD/E motif within a target protein, altering the function of the modified protein. Here we review how viruses manipulate the cellular machinery at each step of the sumoylation process to favor viral survival and pathogenesis.
Keywords
VirusesSmall ubiquitin-like modifierSumoUbc9SenpPiasRanBP2SAE1SAE2
Background
Post-translational modification of proteins is important to numerous cellular events, allowing cells to respond to both external and internal stimuli. The most understood modifications include ubiquitination, phosphorylation, acetylation, methylation, and glycosylation. In 1997, a new type of modifying protein (small ubiquitin-like modifier or SUMO) was identified [1]. Since then, four SUMO isoforms (SUMO-1, −2, −3, and −4) have been characterized in humans. Sequence alignment revealed that SUMO-2 and SUMO-3 are approximately 97% similar, so they are often referred to as SUMO-2/3. SUMO-4 shares around 86% identity with SUMO-2/3, while SUMO-1 has approximately 46% identity with SUMO-2/3. SUMO-1 and SUMO-2/3 are ubiquitously expressed in the body; however, SUMO-4 has been detected only in the kidney, dendritic cells, and macrophages [2]. Each SUMO can be covalently conjugated to the lysine residue found within the conserved ΨKxD/E motif, where Ψ represents a hydrophobic residue of the target protein, resulting in its sumoylation [3].
The sumoylation process begins with the transcription and translation of the
sumo
genes to yield the SUMO pro-peptide (Fig.
1
). A SUMO protease (see below) removes a small number of amino acids from the C-terminus of the pro-peptide to reveal the SUMO C-terminal di-glycine motif. The end result is the mature form of SUMO, which can be used to modify a target protein (Fig.
1
). Mature SUMO is activated by the SUMO-activating enzyme, which is a heterodimer consisting of two subunits (SAE1 and SAE2, Fig.
1
). Using ATP as a donor/substrate, SUMO E1 catalyzes the adenylation of the di-glycine motif of the mature SUMO, forming a SUMO-AMP intermediate. During this step, the SUMO E1 undergoes a conformational change, which then allows for the formation of a transient intermediate thioester bond between SUMO and a cysteine residue on SAE2 (C173).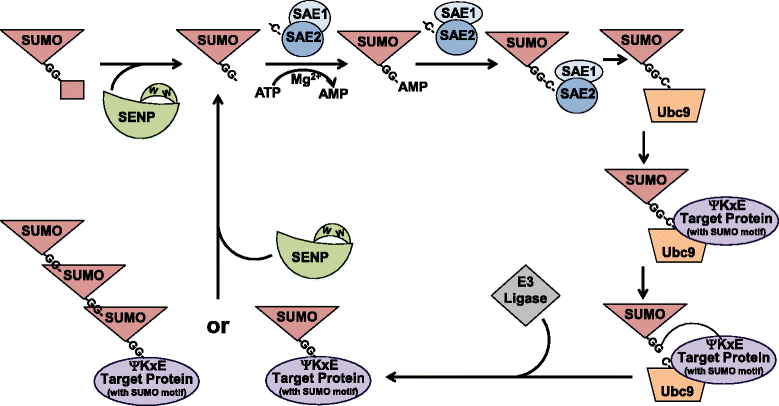 Following activation, SUMO is passed to the SUMO-conjugating enzyme Ubc9 (Fig. 1), a 158-aa protein that forms a single domain structure similar to other ubiquitin conjugating proteins [4]. Ubc9 consists of four core β-sheets that are surrounded at the ends by four α-helices [4]. Within the pocket formed by these structures is the conserved catalytic cysteine residue of Ubc9 (C93). SAE1/2 transfers the SUMO to Ubc9 C93, forming a second transient intermediate thioester bond [5]. The Ubc9 pocket also identifies the canonical ΨKxD/E motif within the target protein (Fig. 1) [6]. The catalytic site of Ubc9 catalyzes formation of an isopeptide bond with the C-terminal SUMO di-glycine motif and the ε-amino group of the lysine residue within the SUMO motif of the target protein (Fig. 1) [6]. In addition to the interaction of SUMO with the pocket of Ubc9, the target protein interacts through non-covalent interactions with the surface of Ubc9. This surface is composed of numerous patches with positive and hydrophobic residues [4]. While Ubc9 has several SUMO-independent functions, it is proposed that the non-covalent SUMO-Ubc9 interactions enable the formation of poly-SUMO chains [7].
In some cases, the attachment of SUMO to the target protein also requires a SUMO ligase (E3) (Fig. 1), such as Ran binding protein (RanBP2) [8], a member of the protein inhibitor of activated STAT (PIAS) protein family [9], or the polycomb protein Pc2 [10]. These SUMO E3 ligases confer specificity towards the target protein and may help mediate the sumoylation of target proteins, including residues outside of the canonical ΨKxD/E motif. The SUMO E3 ligases are thought to interact with SUMO and Ubc9 and serve as adaptors between the Ubc9-SUMO intermediate and the target protein [11].
The entire process can be reversed by SUMO proteases or Sentrin-specific proteases (SENPs) (Fig. 1). In mammals, six SENP isoforms (SENP 1–3 and 5–7) with de-sumoylating activity have been identified [12]. These isoforms are divided into sub-families based on their cellular distribution, role in maturation of the SUMO pro-peptides, and/or their specificity in cleavage of SUMO-1- or SUMO-2/3-modified proteins. SENP1 and SENP2 make up the first sub-family due to their ability to cleave SUMO-1, −2, and −3 [12]. The second and third sub-families are SENP3 and SENP5 or SENP6 and SENP7, respectively, which preferentially cleave SUMO-2/3-modified proteins over SUMO-1-modified proteins [12]. In addition to de-conjugating sumoylated proteins, SENP1, SENP2, and SENP5, are also responsible for the maturation of the SUMO pro-peptides (Fig. 1) [12].
The SENPs share a conserved C-terminal cysteine protease catalytic domain [12], which has the typical catalytic triad (cysteine-histidine-aspartic acid). The C-terminal domain is formed by anti-parallel five-stranded β-sheets surrounded by two α-helices [13]. This structure interfaces with SUMO, allowing for the interaction between the SENP and SUMO precursors or sumoylated proteins [13]. Within the catalytic site, tryptophan residues form a tunnel that allow for the accurate position of the SUMO di-glycine motif and scissile bond [14]. Within the tunnel, the scissile bond creates a kink in the isopeptide linkage or within the SUMO pro-peptide and promotes the cleavage of the bond, resulting in protein de-sumoylation or SUMO maturation, respectively [15].
In a manner similar to ubiquitination, proteins can be mono- or poly-sumoylated. SUMO-2/3 contains the canonical SUMO motif, granting mature SUMO-2/3 the ability to sumoylated, forming poly-SUMO chains on target proteins [16]. However, SUMO-1 lacks this motif, so it can only be used to mono-sumoylate a target protein or act as a terminator of a SUMO-2/3 chain [17]. Little is known of how these forms differ in regulating protein function [3].
While only 5–10% of a target protein is found in a sumoylated form at any given time, the effect sumoylation has on protein function can be long-lived, even affecting protein function after it is de-sumoylated [18]. Sumoylation can regulate protein activity through altering a protein's intracellular location, affecting a protein's ability to interact with other proteins, and modifying a protein's ability to interact with DNA [3, 19, 20]. Protein sumoylation also modulates cellular processes, including nuclear trafficking, cell division, DNA replication, DNA damage responses, transcription, and chromosome segregation [21]. Because of the multitude of cellular processes affected by protein sumoylation, dysregulation of sumoylation processes can significantly alter normal cellular events, such as cell motility and survival, and result in extremes, including cancer progression and viral pathogenesis.
Conclusion
As we have outlined here, viruses possess multiple different mechanisms by which they manipulate the sumoylation machinery for their benefit and to the detriment of the host. Many investigations into sumoylation processes during viral infection have focused on the covalent modification of specific viral and cellular proteins. We have focused on how viruses affect the different steps of the sumoylation processes to regulate viral replication and viral pathogenesis. Viruses are able to target each step of the sumoylation process (Table 1), from the activation of the sumo promoters and altering the intracellular pools of free SUMO available for conjugation to the regulation of the expression/function of the SENPs.
Most previous research has focused on the manipulation of Ubc9 and the SUMO E3 ligases. However, as we have shown, there are additional possible targets by which viruses can influence sumoylation processes, and we have not addressed the role of SUMO-interacting motifs in the SUMO machinery and in viral proteins and SUMO-targeted ubiquitin ligases. Together, these findings highlight the importance of sumoylation processes in the viral life cycle and reveal the necessity of deciphering unknown mechanisms by which viruses target the cellular sumoylation machinery and sumoylation processes during their infection cycle.
The same pathway can be manipulated by different pathogens in different ways to achieve the same end goal, which is viral replication and propagation. Therefore, elucidating how viruses manipulate each step of the sumoylation process may reveal new targets for specific antiviral therapies. The viral-mediated targeting of the SUMO machinery to enhance/inhibit sumoylation processes could also have potential therapeutic effects in designing new treatments for cancer and other diseases where sumoylation processes are dysregulated.
Abbreviations
ADV:

Adenovirus
CELO:

Chicken embryo lethal orphan
EBOV:

Ebola virus
EBV:

Epstein-barr virus
FMDV:

Foot-and-mouth disease virus
HCMV:

Human cytomegalovirus
HCV:

Hepatitis C virus
HHV-6:

Human herpesvirus-6
HIV:

Human immunodeficiency virus
HPIV:

Human parainfluenza virus
HPV:

Human papilloma virus
HSV:

herpes simples virus
IAV:

Influenza A virus
IBV:

Influenza B virus
ICP0:

Infected cell protein 0
IE:

Immediate early
JEV:

Japanese encephalitis virus
KSHV:

Kaposi's sarcoma-associated herpesvirus
LANA:

Latency-associated nuclear antigen
LMP1:

Latent membrane protein-1
NP:

Nucleocapsid protein
ORF:

Open reading frame
PIAS:

Protein inhibitor of activated STAT
RanBP2:

Ran binding protein-2
VACV:

Vaccinia virus
Declarations
Acknowledgments
We apologize to those researchers whose work could not be cited for lack of space. We would like to thank E.I. Snyder, J. Heckman, and R.M. Bentz for their support and R. McCann and R. McKallip for their assistance editing the manuscript.
Funding
This work was supported by the National Cancer Institute (CA160786).
Availability of data and materials
Not applicable.
Authors' contributions
AL and GB wrote the manuscript and made the figures. AL, WC, and GB revised the manuscript and figures. All authors read and approved the final manuscript.
Ethics approval and consent to participate
Not applicable.
Consent for publication
Not applicable.
Competing interests
The authors declare that they have no competing interests.
Publisher's Note
Springer Nature remains neutral with regard to jurisdictional claims in published maps and institutional affiliations.
Open AccessThis article is distributed under the terms of the Creative Commons Attribution 4.0 International License (http://creativecommons.org/licenses/by/4.0/), which permits unrestricted use, distribution, and reproduction in any medium, provided you give appropriate credit to the original author(s) and the source, provide a link to the Creative Commons license, and indicate if changes were made. The Creative Commons Public Domain Dedication waiver (http://creativecommons.org/publicdomain/zero/1.0/) applies to the data made available in this article, unless otherwise stated.
Authors' Affiliations
(1)
Division of Biomedical Sciences, Mercer University School of Medicine, Macon, Georgia