Modeling approaches for qualitative and semi-quantitative analysis of cellular signaling networks
Cell Communication and Signaling
2013
11:43
Received: 18 April 2013
Accepted: 20 June 2013
Published: 26 June 2013
Abstract
A central goal of systems biology is the construction of predictive models of bio-molecular networks. Cellular networks of moderate size have been modeled successfully in a quantitative way based on differential equations. However, in large-scale networks, knowledge of mechanistic details and kinetic parameters is often too limited to allow for the set-up of predictive quantitative models.
Here, we review methodologies for qualitative and semi-quantitative modeling of cellular signal transduction networks. In particular, we focus on three different but related formalisms facilitating modeling of signaling processes with different levels of detail: interaction graphs, logical/Boolean networks, and logic-based ordinary differential equations (ODEs). Albeit the simplest models possible, interaction graphs allow the identification of important network properties such as signaling paths, feedback loops, or global interdependencies. Logical or Boolean models can be derived from interaction graphs by constraining the logical combination of edges. Logical models can be used to study the basic input–output behavior of the system under investigation and to analyze its qualitative dynamic properties by discrete simulations. They also provide a suitable framework to identify proper intervention strategies enforcing or repressing certain behaviors. Finally, as a third formalism, Boolean networks can be transformed into logic-based ODEs enabling studies on essential quantitative and dynamic features of a signaling network, where time and states are continuous.
We describe and illustrate key methods and applications of the different modeling formalisms and discuss their relationships. In particular, as one important aspect for model reuse, we will show how these three modeling approaches can be combined to a modeling pipeline (or model hierarchy) allowing one to start with the simplest representation of a signaling network (interaction graph), which can later be refined to logical and eventually to logic-based ODE models. Importantly, systems and network properties determined in the rougher representation are conserved during these transformations.
Keywords
Interaction graphsLogical modelsBoolean modelsSignal transductionQualitative modelingODE modelsEGF signaling
Introduction
Cellular signaling is made up of complex networks of interacting molecules that are tightly interconnected and regulated. In order to gain an integrated understanding of these networks, systems biology approaches combining mathematical and computational methods with experimental data are becoming increasingly important. To account for the different quality of information that is available for a network under study—the available experimental data might provide a detailed quantitative knowledge or just a qualitative view, and detailed prior knowledge on the network topology might or might not exist—modeling formalisms of different levels of complexity have been developed over the last years [1, 2].
Physicochemical modeling approaches, typically networks of differential equations, provide a detailed description of the biochemical processes that is based on physical and chemical theory [3]. Most widely used are sets of coupled ordinary differential equations (ODEs) that describe the system's development over time using mass-action kinetics for the rates of production and consumption of the biomolecular species (e.g., [4]). This type of modeling requires sufficient knowledge of biological mechanisms and kinetic parameters, what limits its applicability to small and well-characterized networks.
In contrast, qualitative modeling approaches are primarily based on the network structure and do not require information on the kinetic parameters. This makes them generally applicable to large-scale networks. The class of qualitative modeling approaches comprises various formalisms of different complexity. Graph models representing biological species as nodes and interactions between the species as edges are arguably the simplest mathematical description of signaling networks. They have mainly been applied to study global topological properties of networks containing up to several thousand proteins [5, 6]. More refined qualitative modeling approaches include constraint-based modeling [7], Petri nets [8, 9], and logical modeling [10–12]. As graph models, these frameworks solely rely on the network structure, yet they enable the analysis of important functional properties of large-scale signal transduction networks such as input–output relationships, feedback loops, or signal transfer routes, and they also allow certain predictions, for instance, regarding the expected qualitative response to perturbations. Besides static investigations, Petri nets and logical models enable to derive qualitative properties of the system's dynamics by means of discrete dynamic modeling [9, 11]. Other parameter-free approaches also aim at gaining insights into the qualitative dynamic properties of the system, however, in the context of ODE systems [13–17]. A typical question that is tackled by these approaches is whether a given ODE network structure is able to exhibit, for some parameter values, a certain qualitative behavior such as multistationarity, oscillatory behavior, or non-monotonicity. Although these approaches are parameter-free, a detailed knowledge of the involved reactions, including mechanistic details, is usually required, whereas Petri nets and logical models are based on a more abstract understanding.
Within this work, we review three modeling formalisms for the description of cellular signaling networks that are of different complexity (Figure
1
). As representatives of graph models,
interaction graphs
capture pairwise relationships between biological compounds. We will describe applications of interaction graphs to cellular signaling networks such as the identification of signaling pathways and feedback loops, and the analysis of global interdependencies useful to check the consistency of experimental data with a given network structure. In
logical models
, the information that is contained in an interaction graph is extended by rules defining how the discrete state of a node is governed by the states of other nodes. This enables to compute the qualitative input–output behavior of a signaling pathway under study as well as the identification of intervention strategies. Furthermore, logical models can be used to study the qualitative system dynamics. In order to come up with models that are able to explain and predict quantitative and dynamic system behavior, logical models can be transformed to ODE models in a straightforward way. In contrast to physicochemical ODE models that are based on mechanistic descriptions of the biochemical processes, these
logic-based ODE models
can be seen as continuous representation of qualitative biological knowledge [
18
]. As such, they can also be derived for pathways where a detailed mechanistic knowledge is missing and ODE modeling using mass-action kinetics is infeasible.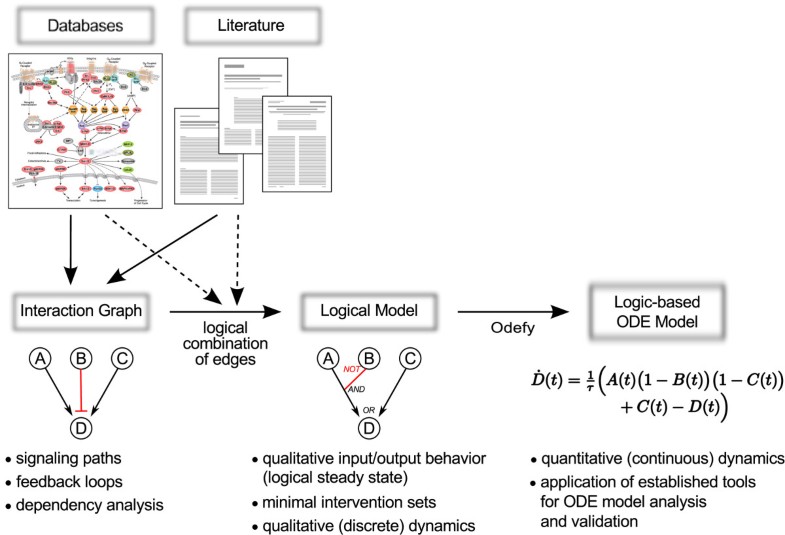 Interaction graphs, logical models and logic-based ODE models are tightly linked since every logical model has an underlying interaction graph (from which it was constructed) and every logic-based ODE an underlying logical model and thus also a corresponding interaction graph (Figure 1). Thus, these three approaches can make up a "modeling pipeline": qualitative biological knowledge available in the literature or in pathway databases can often directly be represented in interaction graphs. The transformation to logical models enables discrete simulations. Finally, the derivation of logic-based ODEs enables one to confront qualitative biological knowledge with quantitative and time-resolved experimental data. Importantly, systems and network properties are conserved when moving from the rougher to the more complex model description and remain thus valid in the refined model.
Example network: EGF and NRG1 signaling
Throughout this work, we will use a small example network of epidermal growth factor (EGF) and neuregulin-1 (NRG1; also known as heregulin) signaling (Figure
2
) that was manually derived from a large-scale network describing signaling through ErbB receptors [
20
]. As members of the EGF-related peptide growth factors, EGF and NRG1 bind to receptors of the ErbB receptor family leading to the formation of homo- and heterodimers (see, e.g., [
21
]). EGF binds specifically to ErbB1, also known as EGF receptor (EGFR), whereas NRG1 binds to ErbB3 and ErbB4 [
21
]. The fourth ErbB receptor, ErbB2, does not bind any ligand of the EGF family, but can be regarded as a non-autonomous amplifier of ErbB signaling [
22
]: it is the preferred heterodimerization partner of the other ErbB receptors and as such impairs the formation of ErbB1/ErbB3, ErbB1/ErbB4, and ErbB3/ErbB4 heterodimers [
23
,
24
]. ErbB receptor signaling has a large impact on various cellular responses such as proliferation, survival, development and growth [
22
,
25
].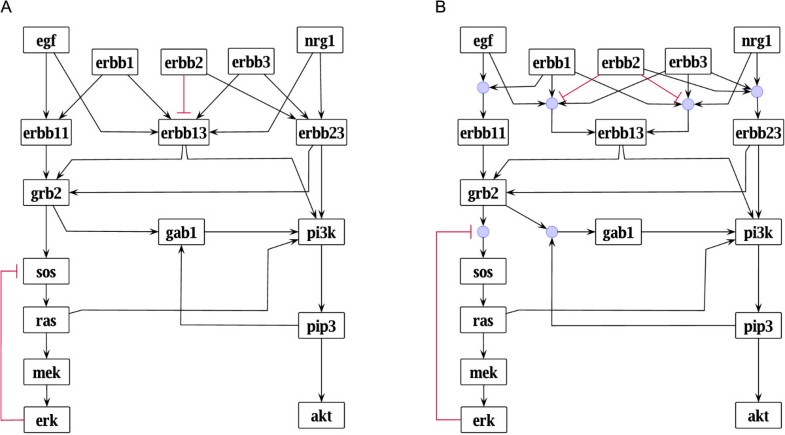 The main purpose of the EGF/NRG1 example network is to illustrate the presented methods; thus, we tried to keep the network simple while still being biologically plausible. Of the different downstream signaling pathways, we focused on two major ones, the MAP kinase signaling cascade activating ERK, and the PI3 kinase signaling pathway activating Akt. Both pathways are described in a compressed way, neglecting some of the intermediate species. Furthermore, we did not consider all the various feedback and crosstalk mechanisms that have been reported for both pathways (see, e.g., [27]), but focused on some exemplary ones. In order to keep the activation mechanisms at the receptor level simple, ErbB4 was not included and only three out of the four functional dimers formed by ErbB1, ErbB2 and ErbB3 are part of the network. Including ErbB3 rather than ErbB4 was motivated by the fact that ErbB3 can directly activate PI3K, whereas ErbB4 can only indirectly activate PI3K via Gab1 and thus shows a similar signaling response as ErbB1 (see, e.g., [22]).
Conclusion
Qualitative modeling approaches are usually the tool of choice in large-scale biological networks, where a predictive mechanistic modeling is often infeasible due to missing information on mechanistic details, kinetic laws, and parameters. Qualitative models do not usually incorporate kinetic aspects of cellular signaling and can thus not provide a comprehensive quantitative understanding as with mechanistic ODE modeling. However, many successful applications in Systems Biology have demonstrated that (i) qualitative modeling provides a suitable framework to deal not only with the often coarse-grained biological knowledge but also with the typically qualitative information (trends) contained in many biological datasets; and (ii) that the analysis of qualitative models (with or without experimental data) may uncover important network and system's properties on the basis of a given network topology or/and other qualitative knowledge. Accordingly, models that are only based on qualitative data and network topology have been shown to be predictive tools that are able to provide constructive hypotheses (see, e.g., [116] and references therein). In this sense, key achievements of qualitative modeling approaches in large-scale signaling networks (that could arguably not have been achieved by ODE modeling) are (i) capturing and formalizing qualitative knowledge [61, 67, 73], (ii) getting a broader understanding of the network function (e.g., input–output behavior) generated by tens or hundreds of interacting signaling molecules [59, 70, 71], (iii) assessing experimental data in the context of large signaling networks [20, 60], and, more recently, (iv) the identification or/and training of large signaling networks based on high-throughput measurements [64, 101].
In this review, we focused on interaction graphs and logical modeling as two representatives of qualitative modeling frameworks and showed which questions can typically be addressed by this model class. Interaction graphs and logical/Boolean models are related modeling formalisms, and together with logic-based ODE models that are derived from the logical description, these approaches can be integrated into a "modeling pipeline" (Figure 1) allowing one to consider different levels of complexity and successive refinements of a network model under study. Most notably, properties of the coarser model description are retained in the refined model. For example, the feedback loops, signaling paths and global interdependencies in a logical model are equivalent to the ones of the interaction graph from which the logical model was constructed. One can easily switch (back) to the underlying interaction graph of a logical model when representing the latter as hypergraph. In the same way, in the continuous logic-based ODE model, important properties of the Boolean model (and of the interaction graph) it is derived from are conserved. This concerns, for instance, minimal intervention sets, but also the steady states: (logical) steady states of the Boolean model are also steady states of the continuous BooleCube or normalized HillCube models. For the non-normalized HillCubes, it can be shown that the continuous model has a steady state in the neighborhood of each steady state of the Boolean model, as long as the Hill coefficient is sufficiently large [18]. Furthermore, the interaction graph associated with the ODE model is (apart from additional negative self-loops arising from the degradation reactions) identical with the interaction graph underlying the logical model [18]. Thus, all network properties extracted from the interaction graph structure including, for example, all feedback loops and signaling paths or predictions of qualitative effects of perturbations through the dependency matrix, are still valid in the refined modeling formalism.
The whole modeling pipeline discussed above and shown in Figure 1 is supported by the software CellNetAnalyzer[52]. This MATLAB package provides a user-friendly environment for biological network analysis and comprises many methods and algorithms for the analysis of interaction graphs and logical models of cellular signaling networks. In addition, the Odefy package [96] enabling the conversion of logical to ODE models is integrated as a plugin. The user can switch between the three modeling formalisms on demand and "on the fly". Tables 1 and 2 as well as Figures 3, 4, and 6 were computed/generated by CellNetAnalyzer (Figures 4 and 6 with the help of the Odefy plugin).
Authors' Affiliations
(1)
Max Planck Institute for Dynamics of Complex Technical Systems, Magdeburg, Germany
Copyright
© Samaga and Klamt; licensee BioMed Central Ltd. 2013
This article is published under license to BioMed Central Ltd. This is an Open Access article distributed under the terms of the Creative Commons Attribution License (http://creativecommons.org/licenses/by/2.0), which permits unrestricted use, distribution, and reproduction in any medium, provided the original work is properly cited.