The emerging roles of phosphatases in Hedgehog pathway
Cell Communication and Signaling
2017
15:35
Received: 13 July 2017
Accepted: 14 September 2017
Published: 20 September 2017
Abstract
Hedgehog signaling is evolutionarily conserved and plays a pivotal role in cell fate determination, embryonic development, and tissue renewal. As aberrant Hedgehog signaling is tightly associated with a broad range of human diseases, its activities must be precisely controlled. It has been known that several core components of Hedgehog pathway undergo reversible phosphorylations mediated by protein kinases and phosphatases, which acts as an effective regulatory mechanism to modulate Hedgehog signal activities. In contrast to kinases that have been extensively studied in these phosphorylation events, phosphatases were thought to function in an unspecific manner, thus obtained much less emphasis in the past. However, in recent years, increasing evidence has implicated that phosphatases play crucial and specific roles in the context of developmental signaling, including Hedgehog signaling. In this review, we present a summary of current progress on phosphatase studies in Hedgehog pathway, emphasizing the multiple employments of protein serine/threonine phosphatases during the transduction of morphogenic Hedgehog signal in both Drosophila and vertebrate systems, all of which provide insights into the importance of phosphatases in the specific regulation of Hedgehog signaling.
Keywords
Hedgehog pathwayPhosphorylationPhosphataseKinase
Background
The Hedgehog (Hh) pathway is a conservative ligand-dependent cellular signaling mechanism, playing a vital role in diverse biological processes, such as cell proliferation and differentiation, embryonic development, and maintenance of stem cell status in adults [1]. Aberrant Hh signaling activities have been implicated in many human disorders including birth defects and cancers [2, 3]. Therefore, the activity of Hh signaling is required to be precisely controlled.
Protein phosphorylation is one of the most important and well-studied post-translational modifications [4]. Nearly one-third of proteins in cells are subject to at least one-time phosphorylation during their whole lives [5]. Protein phosphorylation is a reversible process, mediated by two types of enzymes: protein kinase and protein phosphatase [6]. A protein kinase is responsible for transferring a phosphate group from ATP to a serine, threonine or tyrosine residue at a substrate protein, while a phosphatase is in charge of removing phosphates from the substrate. The balance between kinase and phosphatase activities controls phosphorylation status of a substrate protein, alteration of which is capable of affecting its almost every aspect, such as conformation/structure, stability, activity, protein-protein interaction [6]. In contrast to protein kinases, protein phosphatases have been much less studied. They were initially considered as possessing broad and constitutive activities without functional specificities. However, increasing evidence is indicating that protein phosphatases are regulated in complex manners and are highly specific towards different protein substrates [6].
In the context of developmental signal transduction, protein phosphorylation has been revealed to play a critical role in precisely controlling the status and amplitude of signaling pathways [6]. In Hh signaling pathway, several core components have been found to undergo phosphorylations, which significantly contribute to proper controls of Hh signaling outcomes [7]. Although the executing kinases in these phosphorylation events have been intensely studied [8], relatively little is known about the responsible protein phosphatases. In this review, we mainly summarize emerging studies of phosphatases involved in regulation of Hh signaling in recent years, with a highlight of multiple employments of protein phosphatase 2A (PP2A), one of abundant and important cellular protein phosphatases, during Hh signal transduction cascade, emphasizing the equal importance of phosphatase as kinase in regulating Hh signaling.
Principles of Hh signaling transduction
Since the original discovery of
hh
gene in
Drosophila melanogaster
as a regulator of body patterning during embryonic development, the knowledge about principle mechanism of Hh signal transduction has dramatically increased over the past decades [
1
,
9
]. The intense genetic research in
Drosophila
has elucidated the core Hh signal transduction cascade (Fig.
1
a and b), which is initiated by two transmembrane proteins, a signal receptor Patched (Ptc) and an essential signal activator Smoothened (Smo). In the absence of Hh ligand, Ptc inhibits Smo activity, probably by preventing its cell surface localization. A transcription factor Cubitus interruptus (Ci) is proteolytically processed, which is facilitated by a cytoplasmic signal transducer complex consisting of Costal2 (Cos2), Fused (Fu), and Suppressor of Fused (Sufu), to produce a transcriptional repressor CiR for Hh target genes (Fig.
1a
). Once Hh binds to Ptc, Smo is relieved from Ptc inhibition and becomes activated, eventually resulting in the stabilization of Ci, which is converted to a transcriptional activator CiA to replace CiR in nucleus and switch on the transcription of Hh target genes (Fig.
1b
) [
10
–
17
].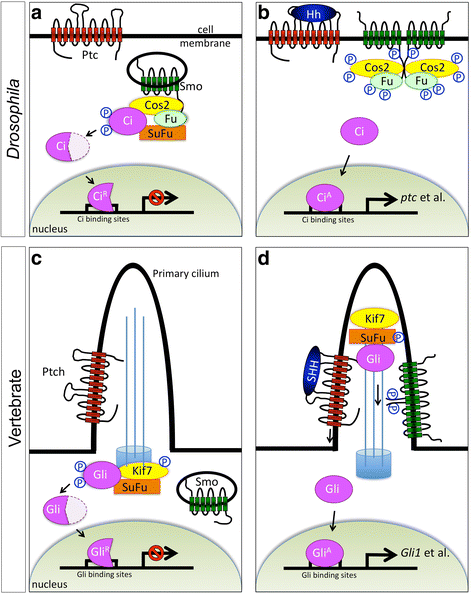 The core Hh signal transduction shares same principle from
Drosophila
to mammals, although the mammalian pathway is more complex owing to the presence of multiple ligands, receptors and transcription factors (Table
1
) [
18
]. This complication can be representatively reflected by the diverse functions of Glioma-associated oncogene homologue (Gli) proteins, the Ci homologous proteins in vertebrates. Three members are known in Gli family: Gli1, Gli2, and Gli3. Gli1 mainly serves as a target gene of Hh signaling. Gli2 and Gli3 share the transcriptional task of Ci in Hh signaling: Gli2 preferredly contributes to the activator form GliA, and Gli3 is the major source of repressor form GliR [
19
,
20
].
Table 1
Core components of Hh pathway in Drosophila and vertebrates
Component Function

Protein Type

Drosophila Protein

Vertebrate Protein

Ligand

Secreted protein

Hedgehog (Hh)

Sonic Hedgehog (Shh),

Desert Hedgehog (Dhh),

Indian Hedgehog (Ihh)

Receptor

12-transmembrane protein

Patched (Ptc)

Patched1 (Ptch1),

Patched2 (Ptch2)

Transcriptional activator and repressor

Zinc finger transcription factor

Cubitus interruptus (Ci)

Glioma-associated oncogene homologue (Gli1–3)

Signal activator

7-transmembrane protein,

G-protein-coupled-receptor (GPCR)

Smoothened (Smo)

Smo

Signal transducer

Kinesin-like protein

Costal2 (Cos2)

Kinesin family member 7 (Kif7)

Ser/Thr Kinase

Fused (Fu)

Fu/STK36

PEST domain protein

Suppressor of Fused (Sufu)

Sufu
Distinct from Drosophila membrane-mediated Hh pathway, vertebrate Hh pathway is transduced in a manner depending on primary cilium, a microtubule-based membrane protrusion and antenna-like cellular structure, although the exact biochemical mechanisms remain largely unclear (Fig. 1 c and d) [1]. Hh-induced Smo accumulation on primary cilia and the following transportation of Gli proteins to tips of cilia are prerequisite steps for Gli nucleus translocation. As most Drosophila cells lack cilium structure during development, it was thought that cilia-mediated Hh signaling is restricted within vertebrates. However, intriguingly, a cilia-mediated Hh pathway in Drosophila olfactory sensory neurons was characterized recently [21], indicating that ciliary Hh pathway is also conserved in Drosophila system.
Major phosphorylation events in Hh pathway: A kinase view
Protein phosphorylation represents one of the most common post-translational modifications in eukaryotes. Not surprisingly, it also occurs on multiple components during Hh signal transduction [7]. During the past decades, phosphorylation events in Hh pathway have been extensively studied, mainly focusing on the characterization of executing kinases [8], reflecting a fine-tuned responding mechanism for cellular components to precisely transduce Hh signal.
Smo, a seven-pass transmembrane protein with a long carboxyl-terminal intracellular tail, is one of the best-studied components for phosphorylation modification in Hh pathway. Upon Hh stimulation, Smo protein undergoes multiple phosphorylations at its intracellular tail [22], by which Smo is activated to transduce signals towards downstream effectors. In Drosophila, a sequential phosphorylation by cAMP-dependent protein kinase (PKA) and casein kinase I (CK1) [22–24] is the most critical step to inhibit Smo ubiquitination and its subsequent endocytosis and degradation [25, 26], resulting in Smo cell surface accumulation. Moreover, these PKA-CK1 phosphorylations drive a conformation switch of Smo cytoplasmic tail from a closed inactive to an open active form [27], facilitating Smo maximal phosphorylation by other kinases, such as G-protein-coupled receptor related kinase 2 (GRK2/Gprk2) and CKIγ/Gilgamesh(Gish) [28–32], to achieve full activation of Smo. However, these PKA-CK1 clusters are not found at vertebrate Smo. Instead, GRK2 and CK1 were thought to replace the role of PKA-CK1 in activating vertebrate Smo by promoting its ciliary localization and active conformation [28, 29, 31, 33–36].
Ci/Gli protein, the transcription effector of Hh pathway, is another key component modulated by phosphorylations, and its phosphorylation events exhibit high conservation between Drosophila and vertebrates. It has been well established that multiple-sites phosphorylations on Ci/Gli by PKA, PKA-primed CK1, or PKA-primed glycogen synthase kinase 3 (GSK3), when Hh signal is off, facilitate the recruitment of Cullin1-based E3 ubiquitin ligase complex containing a F-box protein Slimb (Drosophila) or β-TrCP (vertebrates), producing a truncated transcriptional repressor CiR/GliR through proteolytic processing [37–45]. In contrast, when Hh signal is switched on, the transcriptional activator form of Ci/Gli, converted from full-length Ci/Gli, is eventually subject to complete degradation catalyzed by another Cullin3-based E3 ubiquitination ligase complex that contains HIB/Roadkill (Drosophila) or SPOP (vertebrates) [46–48]. The association between Ci/Gli and HIB/SPOP can be disrupted by CK1-mediated phosphorylation at multiple serine/threonine-rich degrons on Ci/Gli, which are distinguished from those PKA-primed CK1 sites, as a consequence, protecting CiA/GliA from premature degradation [49]. Additionally, several other kinases, such as atypical protein kinase C (aPKC), casein kinase 2 (CK2), dual-specificity tyrosine phosphorylation-regulated kinases (DYRKs), were also implicated in the regulation of Ci/Gli activity [50–53].
The cytoplasmic Cos2-Fu-Sufu complex serves as a bridge between Smo and Ci/Gli to transduce Hh signaling from cell surface to nucleus [54–56]. In response to Hh signal, in Drosophila, Fu kinase phosphorylates Cos2 and Sufu proteins, very likely in a direct manner, to trigger the dissociation of Cos2-Fu-Sufu-Ci complex [55, 57–60], promoting Ci release from the complex and its subsequent activation [57, 61]. Fu itself is also subject to phosphorylation to obtain full activity, including autophosphorylation and its primed CK1 phosphorylation [54, 55, 57, 62, 63]. In mammals, Fu homologs have been suggested as two proteins STK36/Fu and Ulk3. However, it is unlike that they function similarly as Fu in phosphorylating Cos2 and Sufu, as mouse STK36/Fu appears to be dispensable for embryonic development [64, 65] and Ulk3 phosphorylates Gli proteins in vitro [66, 67]. Instead, an unknown kinase phosphorylates vertebrate homologous protein of Cos2, kinesin superfamily member 7 (Kif7) [68], while PKA and GSK3 control mammalian Sufu phosphorylation [69].
The emerging study of phosphatase in Hh pathway
In contrast to kinases, the participation of phosphatase in Hh pathway and the underlying mechanistic details are poorly understood. Recently, increasing evidence is reported to imply an equally important role of the phosphatase to kinase for the modulation of Hh signaling. According to the type of targeting phosphor-residue, protein phosphatases are classified into three major groups: tyrosine phosphatase, serine/threonine phosphatase, and dual-specificity phosphatase [70]. To date, the majority of known phosphorylation events in Hh pathway are taking place at serine or threonine residues [7]. Correspondingly, protein serine/threonine phosphatases currently attract most attentions in the studies of phosphatase function during Hh signal transduction.
Phosphatase and HH morphogenetic response
As a morphogen, Hh protein distributes over cells with a concentration gradient, which induces the different thresholds of signal cellular response in signal receiving cells, and eventually patterns the development of respective tissue or organs. During Hh signal transduction, phosphorylation has been implied to act as an important mechanism to not only fine-tune every component activity, but also interpret Hh morphogen gradient into graded downstream outcomes (Fig.
3
).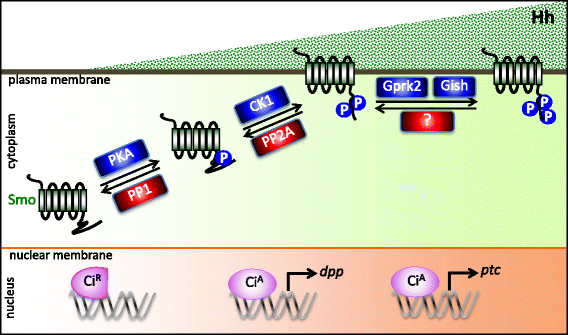 The progressive Smo phosphorylations controlled by PKA-PP1 and CK1-PP2A have been illustrated to interpret morphogenic Hh signals into graded signaling outputs, which usually is represented by distinct thresholds of Hh-responsive gene expressions (Fig. 3) [72]. In responding to increasing Hh gradient, Smo obtains PKA-mediated intermediated level of phosphorylation and then CK1-regulated hyperphosphorylation [23]. The mutagenesis analyses have revealed that PKA-phosphorylated Smo species are sufficient to activate low-to-intermediate, but not high, threshold of Hh-responsive gene expressions, whereas PKA-primed CK1 phosphorylation is able to stabilize Smo at plasma membrane and induce the expression of high-threshold Hh target genes [23, 24, 72]. Correspondingly, by antagonizing kinase activities, PP1 or PP2A is capable of regulating the status of Smo phosphorylation and altering the expressions of Hh target genes [72]. Inhibiting the activities of all four PP1cs by nuclear inhibitor of protein phosphatase 1 (Nipp1), an endogenous inhibitor of PP1, is able to enrich PKA-phosphorylated Smo species, and induce the expressions of Ci and dpp, which are responding to low-to-intermediate Hh signals. Repression of PP2A activity is able to enhance Smo hyperphosphorylation by CK1 and activate the expression of ptc, a high-threshold Hh target gene.
In Hh pathway, Smo does not physically interact with either ligand Hh or receptor Ptc, therefore, the mechanism of how Smo obtains an order from Hh to undergo phosphorylation is not clearly characterized. Yavari et al. have proposed a model that Hh-Ptc binding alters the levels of PI4P at cell membrane to in turn regulate Smo plasma membrane localization and activation [105]. Even though, the relationship between membrane lipids and Smo phosphorylation is still elusive. Alternatively, it is possible that Hh regulates Smo phosphorylations through altering the activities of Smo-related kinases or phosphatases. Actually, upon Hh stimulation, the activities of PKA or CK1 were not obviously changed [72], making it likely that the regulation of PP1 or PP2A activities by Hh could be a major mechanism for Hh-induced Smo phosphorylation. It was observed a long time ago that okadaic acid-sensitive-phosphatase activity is induced by Shh treatment in cultured mammalian cells [80]. However, no investigation followed up to further dissect this observation and its underlying molecular mechanism. It will be of interest to delineate the Hh regulation in the expressions or activities of these related phosphatases in future. Regardless, the phosphatase study in Hh signaling has provided a new insight to fully understand the mechanisms of how the morphogenic Hh signals are transduced in cells.
Challenges and opportunities in phosphatase study
Although the current phosphatase study in Hh pathway has achieved remarkable progress (Fig.
4
a and b), it still falls far behind the kinase study. Up to now, the phosphatases affecting Cos2, Fu, or Sufu, remain mysterious. A few phosphatases have been identified to regulate Smo, Ci/Gli, and Kif7. However, the molecular basis of these phosphatase actions, including the specific targeting phosphor-residues on substrates, is largely unclear. The less progress on phosphatase study mainly is resulted from the difficulties apparently existing in this field.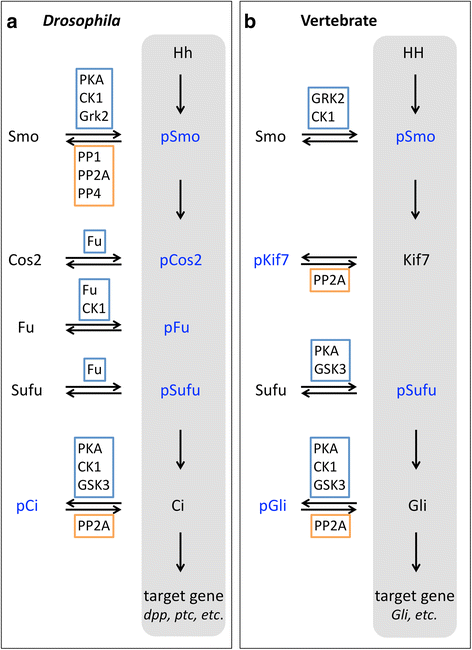 First, it is a big challenge to correlate a phosphatase with its substrates if without any clues from experimental studies. Different from kinases that recognize their substrates simply depending on certain specific consensus sequence, a suitable binding of a phosphatase with its substrate relies on many aspects of these two proteins, such as their three dimension structures, conformations, and even the charges of residues. So it is nearly impossible currently to predict a substrate for a particular phosphatase, or search a responsible phosphatase for a known phosphor-protein, solely based on protein sequences. Second, many phosphatases execute functions only by forming complexes with one or more regulatory subunits. The function study for this type of phosphatase complex requires more comprehensive analysis for all components. Due to the high diversity of regulatory subunits, especially in vertebrates, a phosphatase may obtain various functions by binding with distinct regulatory subunits. But on the other side, the existence of multiple regulatory subunits also increases the complexity to delineate the function of a particular phosphatase, such as the occurrence of functional redundancy between different regulatory subunits.
To overcome these obstacles, many attempts have been undertaken. For example, much effort has been made to define a simple principle for the substrate recognition of PP1 or PP2A. A PP1-docking motif with well-defined consensus sequence RVxF was found to exist in about 70% of all PP1-interacting proteins including PP1 substrates [114]. For PP2A substrate recognition, a conserved LxxIxE motif was reported recently to provide a binding specificity to a particular PP2A phosphatase complex containing B56 regulatory subunit [115]. Although these motifs cannot fully represent the mechanisms to explain the substrate selection of PP1 or PP2A, it is a good starting point to search for PP1 or PP2A substrates. In addition, to bypass these sequence analysis, an organ-based genetic screen with a suitable readout is becoming a reliable way to search for the involved phosphatase under certain circumstances. For instances, several novel phosphatase regulators of Hh signaling, such as PPV and PpD3, have been identified in a screen through observing the expression pattern of Hh-responsive genes in Drosophila larval wing imaginal discs [73]. However, due to the way of phosphatase functioning as a complex and functional redundancy between different regulatory subunits or isoforms, it is expected that some phosphatase effectors could be missed from this kind of screens. Alternatively, according to the character of a protein serine/threonine phosphatase physically interacting with its substrate, utilizing biochemistry methods to precipitate the interacting proteins with a particular phosphatase could be another feasible approach to search for substrates of phosphatases [116]. With the improving techniques in proteomics and phosphatomics, such as phosphor-protein enrichment and advanced tandem mass spectrometry, identifying substrates for phosphatases through these biochemistry approaches appears to be more achievable now than before.
Conclusions
During Hh signal transduction cascade, a broader phosphorylation spectrum has been outlined. As one of two key executors in phosphorylation process, the phosphatase has been increasingly studied in Hh pathway, and remarkable progress has been achieved in recent years. Many phosphatases have been identified in regulating Hh signal activities. Even though, the phosphatase study is still far away from the edge of completion. Many of known phosphorylation events in Hh pathway are lacking information of the responsible phosphatase. On the other side, the molecular mechanism by which the identified phosphatase regulators affect Hh signaling has not been clearly characterized. Fortunately, with the increasing emphasis and improving techniques for phosphatase studies, a more thorough understanding of the phosphatase functions in Hh pathway is promising in the near future.
Abbreviations
aPKC:

atypical protein kinase C
Cdc2l1:

cell division cycle 2 like protein kinase 1
Ci:

Cubitus interruptus
CiA:

Ci activator form
CiR:

Ci repressor form
CK1:

casein kinase 1
CK2:

casein kinase 2
Cos2:

Costal2
DYRK:

dual-specificity tyrosine phosphorylation-regulated kinase
Dzip1:

Daz interacting protein 1
Fu:

Fused
Gish:

Gilgamesh
Gli:

Glioma-associated oncogene homologue protein
GPCR:

G-protein-coupled receptor
GRK/Gprk:

G-protein-coupled receptor kinase
GSK3:

glycogen synthase kinase 3
Hh:

Hedgehog
HIB:

Hh-induced MATH and BTB domain protein
Kif7:

kinesin superfamily member 7
MAP3K10:

mitogen-activated protein kinase kinase kinase 10
MEF:

mouse embryonic fibroblast
OA:

okadaic acid
PKA:

protein kinase A
PP1:

protein phosphatase 1
PP2A:

protein phosphatase 2A
PP4:

protein phosphatase 4
PPV:

protein phosphatase V
Ptc:

Patched
RNAi:

RNA interference
Ser:

serine
SPOP:

speckle-type BTB/POZ protein
STK36:

serine/threonine protein kinase 36
Sufu:

Suppressor of fused
Thr:

threonine
Tws:

twins
Ulk3:

Unc-51 like kinase 3
Wdb:

widerborst
WIP1:

wild-type p53-induced phosphatase 1
Wrd:

well-rounded.
Declarations
Acknowledgements
The authors thank Shan Gao and Hongyan Li in Ocean University of China for their kind support. We also thank the members of Su lab for reading the manuscript and comments.
Funding
This work was supported by the grants from American Heart Association (12SDG8870002) to Y. Su, and the grants from Fundamental Research Funds for Central Universities, China (201562029 and 201762003).
Availability of data and materials
Not applicable.
Authors' contributions
YS gave the idea of the review, outlined the content of the review, and made the final corrections for the manuscript. LZ and YS wrote the manuscript and designed the figures and Table. LW, CC and WL drew the figures. All authors read and approved the final manuscript.
Ethics approval and consent to participate
Not applicable.
Consent for publication
Not applicable.
Competing interests
The authors declare that they have no competing interests.
Publisher's Note
Springer Nature remains neutral with regard to jurisdictional claims in published maps and institutional affiliations.
Open AccessThis article is distributed under the terms of the Creative Commons Attribution 4.0 International License (http://creativecommons.org/licenses/by/4.0/), which permits unrestricted use, distribution, and reproduction in any medium, provided you give appropriate credit to the original author(s) and the source, provide a link to the Creative Commons license, and indicate if changes were made. The Creative Commons Public Domain Dedication waiver (http://creativecommons.org/publicdomain/zero/1.0/) applies to the data made available in this article, unless otherwise stated.
Authors' Affiliations
(1)
Cardiovascular Research Center, Department of Medicine, Massachusetts General Hospital and Harvard Medical School, Charlestown, USA
(2)
Institute of Evolution & Marine Biodiversity, College of Marine Life Sciences, Ocean University of China, Qingdao, China