A new mode of SAM domain mediated oligomerization observed in the CASKIN2 neuronal scaffolding protein
Cell Communication and Signaling
2016
14:17
Received: 24 June 2016
Accepted: 12 August 2016
Published: 22 August 2016
Abstract
Background
CASKIN2 is a homolog of CASKIN1, a scaffolding protein that participates in a signaling network with CASK (calcium/calmodulin-dependent serine kinase). Despite a high level of homology between CASKIN2 and CASKIN1, CASKIN2 cannot bind CASK due to the absence of a CASK Interaction Domain and consequently, may have evolved undiscovered structural and functional distinctions.
Results
We demonstrate that the crystal structure of the Sterile Alpha Motif (SAM) domain tandem (SAM1-SAM2) oligomer from CASKIN2 is different than CASKIN1, with the minimal repeating unit being a dimer, rather than a monomer. Analytical ultracentrifugation sedimentation velocity methods revealed differences in monomer/dimer equilibria across a range of concentrations and ionic strengths for the wild type CASKIN2 SAM tandem and a structure-directed double mutant that could not oligomerize. Further distinguishing CASKIN2 from CASKIN1, EGFP-tagged SAM tandem proteins expressed in Neuro2a cells produced punctae that were distinct both in shape and size.
Conclusions
This study illustrates a new way in which neuronal SAM domains can assemble into large macromolecular assemblies that might concentrate and amplify synaptic responses.
Keywords
Analytical ultracentrifugationCell signalingCrystal structureNeuroscienceNuclear magnetic resonanceProtein structureScaffold protein
Background
CASKIN2 and its mammalian homolog CASKIN1, are multidomain proteins that share the same overall organization [
1
]. The amino terminal half of both proteins consist of protein-protein interaction modules, namely six ankyrin repeats, an SH3 domain, and two SAM domains (Fig.
1
). The carboxy terminal half consists of low complexity, proline-rich sequences [
2
] ending with a conserved 25 aa. segment of unknown function. The CASKINs are named for their ability to interact with CASK (calcium/calmodulin-dependent serine kinase), a MAGUK protein that is implicated in a number of neurological conditions including autism and X-linked mental retardation [
3
–
7
]. Only one homolog,
Ckn
, is observed in the
Drosophila
genome [
8
] and no homologs are observed in
C. elegans
suggesting that from an evolutionary perspective, multiple mammalian CASKINs may have arisen to promote a more comprehensive set of signaling circuits. In CASKIN1, the CASK interaction domain (CID) is located between the SH3 and SAM1 domains and facilitates direct contact with the calmodulin kinase catalytic domain of CASK. The CID is also present in the scaffolding protein, X11/Mint [
9
]. The CID, however, is not present in CASKIN2 rendering it unable to bind CASK [
1
]. Thus, despite their organizational similarity, CASKIN1 and CASKIN2 may have diverged with respect to their scaffolding functions in neurons, their structures and their protein partners.

Sterile Alpha Motif (SAM) domains are well represented in the human genome reflecting the versatility of this compact, five-helix fold to facilitate protein-ligand interactions that include other proteins, nucleic acids and lipids [10]. The most prevalent partners of SAM domains are, in fact, other SAM domains leading to a variety of homotypic and heterotypic SAM-SAM interactions in transcription factors [11, 12] and neuronal signaling protein assemblies [13–15]. Because SAM domains generally employ two complementary surfaces, homotypic interactions may produce not only dimers, but also assemblies of SAM domains polymers to highlight the considerable molecular weight they can attain [16].
The CASKIN1 and CASKIN2 tandem SAM domains were first identified to self-associate during an electron microscopy based survey which sought to identify new SAM domain mediated polymers [16]. Later high resolution X-ray studies revealed that the CASKIN1 SAM1-SAM2 tandem self-associated into helical fibrils [17]. Two roles have been proposed for this architecture at presynaptic sites. First, oligomers of CASKIN1 could link and concentrate cell-adhesion proteins including Ephrin B1 and CASK-associated neurexin. Second, oligomers of CASKIN1 could form a tether by which a stream of vesicles loaded with chemical transmitters could be guided via synaptogamin to the synaptic cleft [17].
We begin this report with a crystal structure demonstrating that the tandem SAM domains of CASKIN2 form an oligomer that is distinct from CASKIN1. By analytical ultracentrifugation, a dissociation constant describing the monomer-dimer equilibrium of the SAM tandem was observed to be in the micromolar range, a favorable concentration in the cell for tuning oligomerization and opening up the possibility for additional regulation by post-translational modifications and protein partners. An EGFP-tagged CASKIN2 SAM1-SAM2 protein expressed in neuroblastoma cells formed punctae consistent with high order oligomers while a structure-directed surface mutant was distributed diffusely. In support of the structural distinction between CASKIN1 and CASKIN2, the punctae were morphologically different. This study provides a foundation to begin exploring the effect of protein partnerships and post-translational modifications that direct the oligomeric state of CASKIN2 and consequently, its function in neurons, possibly apart from the processes directed by CASKIN1.
Discussion
We have presented data from a set of complimentary sources (X-ray crystallography, NMR spectroscopy, analytical ultracentrifugation, and in vivo expression) demonstrating that the CASKIN2 SAM tandem experiences concentration and salt dependent oligomerization. While the CASKIN2 SAM domain crystal structure presents a series of head-to-tail contacts that are typical for most self-associating SAM domains, the manner in which the oligomer is organized as a repeating set dimers is new and distinct from CASKIN1.
Analysis of the AUC-SV data suggests that the wild type CASKIN2 SAM tandem is in a reversible monomer-dimer equilibrium at low concentrations (10–34 μM). In contrast, the oligomerization suppressed G537D/K540E double mutant is essentially monomeric with the dimeric form only beginning to become apparent at high (>500 μM) concentrations. This difference between the wild type and double mutant proteins is qualitatively apparent in the magnitude of the shifts and shapes in sedimentation distributions. From these data and prior knowledge of the system, a quantitative approach using discrete reversible monomer-dimer equilibrium models were justified to determine a K d of the wild type SAM tandem from the SV data directly at two ionic strengths. Consistent with the crystallization conditions, ionic strength enhanced dimerization for the wild type SAM tandem and to a much lesser extent for the G537D/K540E double mutant.
The
K
d
of the CASKIN2 SAM tandem is well suited to the anticipated levels of the protein at synaptic sites and within the realm of other signaling domains such as SH3 and WW domain that must rapidly sample ligands to fulfill their biological functions. At low concentrations, CASKIN2 in its monomeric or dimeric form could serve as a classical adaptor bringing protein partners together (Fig.
9
). Furthermore, dimeric CASKIN2 may help activate associated proteins that depend upon dimerization. At higher concentrations, oligomeric CASKIN2 could provide the increased avidity to concentrate and amplify low affinity protein partnerships that would otherwise be suppressed.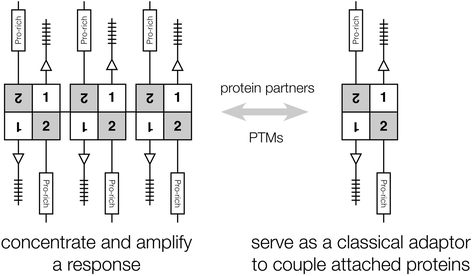 Along with concentration, ionic strength can contribute to oligomerization, although it is unclear if cation fluxes associated with neuronal signaling are sufficient to serve a regulatory role. Pursuing this idea, we did observe a series of hydrophobic contacts in the central portion of the linker region supported by ionic contacts from the nearby SAM domains. In an analogous interaction mode to CASKIN2 domain-swapped dimer, hydrophobic interactions dominate in Byr2-SAM/Ste4-SAM [29, 30] and Ste11/Ste50 [20] heterodimer interface with peripheral support from charged/polar residues. Likewise, Ph [31], TEL [26] and Yan [11] homo-oligomers and Ph/Scm [23] hetero-oligomers assemble around a central hydrophobic cluster in the central head-tail interface supported by number of peripheral electrostatic interactions. An examination of the CASKIN2 and CASKIN1 sequences suggests that these contacts would not be preserved thereby providing a possible explanation for why the minimal repeating unit of CASKIN1 is a compact monomer while the minimal repeating unit of CASKIN2 is a dimer. Furthermore, since ionic contacts are involved, salt concentration and pH may also serve a role at mediating CASKIN2 dimerization and oligomerization. Indeed, as salt concentration increases, the K d describing the monomer-dimer equilibrium increases. The precise effects of salt concentration could be complex as charges are screened and hydrophobic effects begin to predominate. The high concentration of sodium formate used to promote crystallization represents the extreme effect where the protein is essentially salted out of solution. While our investigation was limited to only two NaCl concentrations (0.15 and 0.3 M) and one pH, we refer the reader to a survey of the EphA2/SHIP2 SAM domain heterodimer for a comprehensive perspective of ionic interactions using NMR methods and molecular modeling [24].
EGFP-tagged CASKIN2 SAM1-SAM2 protein was observed as punctae when expressed in Neuro2a cells. This distinctive pattern is very similar to what has been reported for the oligomeric form of the Dishevelled DIX domain [32, 33]. Although they were less apparent, punctae were also observed in micrographs of GFP-tagged diacylglyercol kinase d1 (DGKδ1), facilitated by the Zn(II) dependent oligomerization of its single SAM domain [15, 34]. Mutations in the DGKδ1SAM domain that either abolished Zn(II) binding or inhibited oligomerization resulted in disappearance of punctae and translocation of DGKδ1 to the plasma membrane. Supplementing the structural study of the CASKIN1 SAM tandem, transfections of GFP-tagged full length CASKIN1 were performed in HEK293 cells with the majority of fluorescence observed in the cytoplasm along with some higher intensity speckles near the nucleus [17]. To enable a consistent comparison with the results presented in this study, the CASKIN1 SAM domain tandem and oligomerization inhibited double mutant were expressed in Neuro2a cells under similar conditions (vector, fluorescent reporter, protein levels) as the CASKIN2 SAM tandem. As shown in the micrographs, there was a striking difference in the morphology of the aggregates. Taken together with the crystal structures, the CASKIN2 and CASKIN1 SAM domains appear to oligomerize differently in vitro and in vivo. The biological consequences of this difference may reflect the divergent roles that each protein plays in the neuron.
If CASKIN2 oligomerization is an essential aspect of its neuronal signaling function, it stands to reason that there should be ways to regulate oligomerization that supersede solution conditions such as protein concentration, pH, and divalent ion concentration [34, 35]. Post-translational modifications and protein partner binding [11] offer targeted opportunities to affect the oligomerization process, by repressing the formation of oligomers or by facilitating the disassembly of oligomers. While no biological process that regulates CASKIN2 has been identified to date, a global mass spectrometry survey identified a ubiquitinated lysine (K536) in CASKIN1 at the same oligomerization surface as the G537D/K540E mutants described in this report [36]. Ubiquitination may possibly block the formation of oligomers in an analogous manner that has been reported for the Dishevelled DIX domain [37] and incorporate this neuronal signaling scaffolding protein into other signaling and translation pathways in the neuron.
Conclusions
Sterile alpha motif (SAM) domains are versatile protein-protein interaction modules. Using the CASKIN2 scaffolding protein as a focus of this investigation, we have demonstrated that its SAM domain tandem is able to sample monomeric, dimeric, and oligomeric states. Given the structural distinctiveness of these states, CASKIN2 has the potential to support many different functions in neuronal signaling circuits.
Methods
Cloning
The human CASKIN2 SAM1-SAM2 tandem (483-634; Uniprot Q8WXE0) and individual SAM1 (483-549) and SAM2 (550-634) domains were amplified by PCR from a human cDNA and inserted into the BamHI/XhoI restriction sites of pET28 (Novagen) followed by transformation into E. coli BL21:DE3 to produce a 6xHis tagged protein. Five CASKIN2 mutants, G537D, K540E, G537D/K540E, L589E, and G607D were made using the Quikchange method (Agilent). An EGFP fusion protein to the wild type CASKIN2 SAM1-SAM2 tandem and G537D/K540E mutant was prepared by inserting a suitable PCR product into the XhoI/KpnI restriction sites of pEGFP-N1 (Clontech). A similar approach was used to make EGPF-tagged CASKIN1 SAM1-SAM2 (470-613; Uniprot Q8WXE9) and a G520D/K523E mutant using a synthetic CASKIN1 gene fragment (GenScript).
Expression and protein purification
Isotopic labeling of CASKIN2 SAM1, SAM2, and SAM1-SAM2 for NMR spectroscopy was achieved by a 1.0 L fermentation in a minimal medium containing 1 g 15NH4Cl as the sole nitrogen source and/or 3 g of 13C-glucose as the sole carbon source. Proteins for X-ray crystallographic studies were expressed in a minimal medium with the addition of 50 mg/L of selenomethionine 15 min before induction. Cell pellets were dissolved in T300 buffer (20 mM Tris-HCl, 300 mM NaCl, 0.05 % NaN3) and lysed by French press. Highly purified protein was obtained from a two step purification involving Nickel-NTA affinity chromatography (Qiagen), followed by gel filtration chromatography (Sephacryl-100, HiLoad 16/60; GE Life Sciences). The final buffer for NMR analyses was phosphate buffered saline (PBS; 20 mM sodium phosphate, pH 7.8, 0.15 M NaCl, 0.05 % (w/v) NaN3. Crystallographic screening was performed with proteins in T300 buffer.
Cell culture, transient transfection and immunoblotting
Neuroblastoma 2a (Neuro2a) cells [38] were maintained using standard growth conditions and used for expression and localization studies as described in [39]. 30,000 cells were seeded onto 13 mm glass cover slips in 24 well plates and 200–400 ng plasmid DNA transfected using Effectene reagent as recommended by the manufacturer (Qiagen). Whole cell protein lysates from transfected Neuro2a cells collected 48 h post-transfection were separated by 10 % SDS-PAGE and transferred to 0.2 μm Hybond-ECL nitrocellulose membrane (GE Life Sciences) for immunodetection. Primary antibodies were diluted 1:1000 (rabbit anti-GFP; Santa Cruz) and 1:20000 (mouse anti-β-actin; Sigma-Aldrich). Secondary antibodies (LI-COR Biosciences) were diluted 1:20000 (donkey anti-rabbit IRDye680LT) or 1:20000 (goat anti-mouse IRDye800CW). Signals were detected using the Odyssey Infrared Imaging System (LI-COR Biosciences).
Confocal microscopy
Transfected cells were fixed with 4 % paraformaldehyde for 20 min at room temperature, washed with PBS, counterstained with DAPI and mounted for imaging. Samples were visualized using a Zeiss LSM 700 confocal microscope with a Plan-Apochromat 63x/1.4 Oil DIC M27 objective and the ZEN 2010 program to control all hardware parameters. Images were collected by line averaging (4x) at high resolution (2048x2048 pixel) using single planes or z-stacks. Images were exported and further processed using ImageJ. For deconvolution, the point-spread function was calculated using the Gaussian PSF 3D and Iterative 3D Deconvolve software plugins in ImageJ. Images were combined in Adobe Photoshop for presentation.
Analytical ultracentrifugation
Sedimentation velocity (SV) experiments were performed with a Beckman Optima XL-I at the Center for Analytical Ultracentrifugation of Macromolecular Assemblies at the University of Texas Health Science Center at San Antonio. SV data were analyzed with UltraScan-III [40] All calculations were performed on the XSEDE UltraScan Science Gateway using high-performance computing resources at the Texas Advanced Computing Center, at the San Diego Supercomputing Center, and at the Bioinformatics Core Facility at the University of Texas Health Science Center at San Antonio. All measurements were made in 20 mM sodium phosphate buffer, pH 7.8, supplemented with 0.15 M or 0.3 mM NaCl. The experimental data were collected in intensity mode at 20 °C, and at 50,000 rpm, using standard epon-charcoal two-channel centerpieces. Hydrodynamic corrections for buffer density, viscosity and partial specific volume were made as implemented in UltraScan-III, except when equilibrium constants were fitted to whole boundary models. In those cases, the monomer molar mass, which is known, was held constant, and the partial specific volume was floated to account for the variability in partial specific volume under different salt concentrations. The experimental data were first modeled with solutions of the Lamm equation [41], which are fitted to experimental data by two-dimensional spectrum analysis [42] using meniscus fitting and simultaneous time- and radially invariant noise removal [43]. Noise corrected data were further analyzed by the enhanced van Holde - Weischet method [44]. This approach provides diffusion corrected sedimentation coefficient distributions, providing clear evidence for the presence of heterogeneity, and for identifying reversible mass action reactions. Quantitative equilibrium constants were obtained by fitting analytical ultracentrifugation sedimentation velocity (AUC-SV) experiments by genetic algorithm analysis of as described in [27]. Ninety-five percent confidence intervals were determined by Monte Carlo analysis [45].
NMR spectroscopy
All experiments were performed with either uniformly 15N-labeled, or 13C,15N-labeled samples, as required. Assignment of the G537D/K540E mutant at 0.8 mM in was achieved by a conventional triple resonance strategy (HNCACB, CBCACONH, HNCO, HNCACO) acquired at 310 K with non-linear sampling on a Bruker Avance 950 MHz NMR spectrometer at the Imaging and Characterization Core Laboratory (KAUST). Datasets were processed with a combination of NMRpipe [46] and istHMS [47] and interpreted with CCPN Analysis [48]. Backbone 15N relaxation experiments at a protein concentration of 0.3 mM were acquired on a Bruker Avance 700 MHz NMR spectrometer at the York University Life Sciences Building Central Facility. A longitudinal 15N T1 relaxation rate was determined by acquiring 2D spectra with delays of 200, 400, 600, 800, 1000, and 1200 ms. A transverse 15N T2 relaxation rate was determined by acquiring 2D spectra with delays of 17, 34, 51, 68, 85, 102, 136, and 170 ms. In both cases, spectra were processed and peaks integrated with NMRPipe and then fit to a single exponential function with LMquick [49]. A rotational correlation time (τc) was calculated from the average T1/T2 ratio [50]. From the correlation time, a molecular weight was estimated according to the linear relationship τc = MW * 0.433 + 0.775 published at the University of San Diego NMR Center (http://sopnmr.ucsd.edu/biomol-tools.htm).
X-ray crystallography
Crystals of selenomethionine labeled CASKIN2 SAM1-SAM2 were obtained by hanging drop vapor diffusion at 4 °C with equal parts of a 0.6 mM protein solution in T300 buffer and reservoir solution containing 0.1 M Tris pH 7.5, 2.4 M sodium formate, 5 mM DTT. After 24 h, mature crystals were cryoprotected with the same crystallization solution containing 15 % glycerol and flash frozen in liquid nitrogen prior to diffraction experiments. A diffraction dataset using the single anomalous dispersion method at the peak wavelength was acquired at the Canadian Light Source beam line 08B1-1 with a Rayonix MH300HE area detector [51]. All data were processed using XDS [52]. The calculated Matthews coefficient [53] of 4.43 Å3/Da suggested the presence of one molecule in the asymmetric unit leading to a solvent content of 72 %. Phasing, density improvement, solvent flattening and refinement was performed with Phenix [54]. Six selenium sites were identified and an initial model was produced with AutoSol. From it, a partial model containing 113 of 166 amino acids was achieved with AutoBuild. This model was completed by successive cycles of refinement using Phenix-Refine and manual rebuilding in Coot [55]. Rigid body refinement and secondary structure restraints were applied throughout the refinement process. In the final refinement stages, target weight optimization was performed. No water molecules were added. Structural analysis was performed with MolProbity [56] and PROCHECK [57]. Backbone RMSD was calculated with SSM [58].
Abbreviations
CASKIN:

CASK interacting protein
NMR:

Nuclear magnetic resonance
PTM:

Post-translational modification
SAM:

Sterile alpha motif domain
Declarations
Acknowledgements
None.
Funding
This work was supported by the Canadian Institutes of Health Research MOP-81250 to LWD. GZ is a Canada Research Chair in Molecular and Cellular Neuroscience. XG is supported by King Abdullah University of Science and Technology. The development of the UltraScan Science Gateway is supported by the NSF grant DAC-1339649 to BD. Supercomputer time allocations were provided through NSF grant TG-MCB070039 to BD. The Center for Analytical Ultracentrifugation of Macromolecular Assemblies at the University of Texas Health Science Center at San Antonio is supported by San Antonio Cancer Institute grant P30 CA054174.
Availability of data and materials
Chemical shifts of the G537D/K540E mutant were deposited in the BioMagResBank with the accession number 26705. The crystal structure of the wild type protein was deposited in the Protein Data Bank with the accession number 5L1M.
Authors' contributions
Conceptualization: JJK, ES and LWD; Methodology: BD, GZ, VS, and LWD; Investigation, JK, ES, RS, VS, and LWD; Writing: Original Draft, BD and LWD; Writing, Review & Editing: GZ, VS, XG, and LWD; Funding Acquisition: GZ, VS, LWD, XG, LWD; Resources: JJK, EK and LWD; Supervision: GZ and LWD. All authors have read and approved the manuscript.
Competing interests
The authors declare that they have no competing interests.
Ethics approval and consent to participate
This study did not require ethical approval.
Open AccessThis article is distributed under the terms of the Creative Commons Attribution 4.0 International License (http://creativecommons.org/licenses/by/4.0/), which permits unrestricted use, distribution, and reproduction in any medium, provided you give appropriate credit to the original author(s) and the source, provide a link to the Creative Commons license, and indicate if changes were made. The Creative Commons Public Domain Dedication waiver (http://creativecommons.org/publicdomain/zero/1.0/) applies to the data made available in this article, unless otherwise stated.
Authors' Affiliations
(1)
Department of Biology, York University, Toronto, Canada
(2)
Division of Computer, Computational Bioscience Research Center, Electrical and Mathematical Science and Engineering, King Abdullah University of Science and Technology, Thuwal, Kingdom of Saudi Arabia
(3)
Department of Psychology, York University, Toronto, Canada
(4)
Department of Biochemistry, University of Texas Health Science Center at San Antonio, San Antonio, USA