Ways and means of coping with uncertainties of the relationship of the genetic blue print to protein structure and function in the cell
Cell Communication and Signaling
2010
8:26
Received: 19 July 2010
Accepted: 17 September 2010
Published: 17 September 2010
Abstract
As one of the disciplines of systems biology, proteomics is central to enabling the elucidation of protein function within the cell; furthermore, the question of how to deduce protein structure and function from the genetic readout has gained new significance. This problem is of particular relevance for proteins engaged in cell signalling. In dealing with this question, I shall critically comment on the reliability and predictability of transmission and translation of the genetic blue print into the phenotype, the protein. Based on this information, I will then evaluate the intentions and goals of today's proteomics and gene-networking and appraise their chances of success. Some of the themes commented on in this publication are explored in greater detail with particular emphasis on the historical roots of concepts and techniques in my forthcoming book, published in German: Von Molekülen zu Zellen. 100 Jahre experimentelle Biologie. Betrachtungen eines Biochemikers.
Keywords
Fluorescence Correlation SpectroscopyMembranous EnvironmentAntibody Binding SiteProlyl IsomeraseFunctional Versatility
Introduction
The formation of functional proteins in the cell depends on the reliable transcription and translation of the genetic information. Today, genetics aims at describing the functional correlate of the genome in the context of the living cell, in other words, it tries to build a bridge from genotype to phenotype. In classical genetics however, a gene was an abstract concept, a materially undefined entity that ferried a characteristic property from parent to offspring. Later, genes became chemically, structurally and functionally defined RNA or DNA polymers, [1], and chromosomes, where the genes are located in the cell, were shown to be tightly packed protein-ribonucleic acid complexes, containing a linear array of genes [2]. Finally, the syntax, the genetic message, was deciphered and shown to consist of words consisting of three letter syllables. Today, the question, what is a gene and how does it function [3] must be raised anew, a question that in the not too distant past would have seemed silly, because every schoolchild believed to know what a gene is. The root cause for this confidence came from the organisation of the genome in prokaryotes, where the gene and the product of its transcription, the mRNA, and the product of its translation, the resulting protein's amino acid sequence, were seen to be co-linear. This assumption was experimentally verified [4]. It also led to euphoric expectations in human genetics. After the human genome had been deciphered, the hope was to replace a diseased gene with a functional one, bringing, at the very least, the expectation of curing monogenetically-caused diseases. Co-linearity in prokaryotes is possible, because transcription and translation are not separated by cell compartmentalisation, as is the case for eukaryotes. In prokaryotes, the nascent genetic readout, the mRNA, binds directly to ribosomes where it is translated into protein. However, due to the spatial separation of genes and ribosomes, direct coupling of gene transcription, translation and protein biosynthesis is no longer possible in Eukarya. Whereas gene expression is confined to the nucleus, translation is an exclusively cytoplasmic event. Although separation of both processes makes gene expression much more complicated than in bacteria, it enabled the evolution of split genes and pre-messenger RNA splicing in Eukarya, which in turn led to a massive diversification of genetic information [5, 6]. This, however, is only one of the key aspects that have profoundly changed our views. Most recently, advances in genetics have led to the comprehensive knowledge of the genome's output: the full extent of transcription and the regulatory role of the products of the non-coding DNA, the micro RNAs [7, 8].
After the gene was shown to be composed of DNA, [9, 10], its structure solved by Watson and Crick, [11, 12], and its replication verified by Meselson and Stahl, [13], the next question that had to be answered was, how is the information in DNA transcribed and translated into the language of proteins? The direction of the search was set by Francis Crick's brilliant idea of a unidirectional path, DNA→ RNA→ Protein. Crick had suggested that '...the main function of the genetic material, DNA, in a cell is to control, but not necessarily to direct the synthesis of proteins...' thus hinting at a role of molecules, other than DNA, in protein synthesis. Moreover, on the same occasion [14], he pronounced his central dogma: '... once information has passed from the nucleic acids into protein, it can not get out again, only transfer from nucleic acid to nucleic acid or from nucleic acid to protein is possible.... (Citation from: Horace Freeland Judson's book, The eight day of creation. Makers of the revolution in Biology" [15]). Crick's dogma was a modern version of August Weismann's [16] in which the 'Keimplasma', containing the genes, was described as being separate from the cell soma, which contained everything else. A unidirectional transfer of information from DNA to protein would also have forestalled any kind of environmental influence on the gene, as Lamarck had envisioned, because proteins are the agents that communicate with the environment. While Crick's idea laid the foundations for the identification and characterization of the instruments of gene transcription and translation, tRNAs and mRNAs, and while he was right on transfer only from nucleic acid to nucleic acid, the idea of an unidirectional transfer of information, like any other dogma in biochemistry, was short lived. After Howard Temin [17] and David Baltimore [18] independently discovered reverse transcription from RNA to DNA, Crick's paradigm had to be abandoned.
A focal point of my discussion of the route from gene to protein is the plasticity of structure and function of some proteins, notably of antibodies and receptors [19] which allows one and the same protein to assume different structures and functions in the same cellular environment. I shall give examples of pliable and adaptable proteins and shall cite possible causes of ligand-induced malleability of proteins. Finally, I shall comment briefly on the revolutionary progress made in recent years in the design and improvement of new and old techniques respectively in vivo observations, advances that give me confidence that the ambitious goals of the in vivo 21st century biochemistry might be, at least in part, realized.
Conclusions
The chances of today's functional genetics and proteomics
Today, it is agreed that a functional assignment of the genome is needed [127]. For that purpose, the ENCODE project, ENCyclopaedia Of DNA Elements) [128], which should provide functional assignments to all genes in the human genome has been organized and implemented. The most advanced sequencing techniques, combined with the most sophisticated computational methods are being applied. A pilot study, covering 1%, or 30 megabases, of the human genome, showed that nearly all of the DNA in a human chromosome is transcribed into RNA, as well as revealing the existence of many, still unrecognized, stretches of DNA with as yet unknown functions.
Another objective lies in finding out how the expression of DNA, packed in the chromatin of the chromosome, is regulated and epigenetically controlled. This is a sign that in the future, in addition to all the efforts aiming at a functional definition of the genome, one will also take into account the bewildering and still growing number of ways and means of how the genetic readout is modified, controlled and regulated. Depending on how cell-specific gene expression is, one might even have to identify the functional role of genome sequences in individual, differentiated cells.
Stefan Bornholdt, [129], has pointed out that going from measurements of all the factors, including all regulatory factors, that are responsible for the expression of a single gene, to measurements of the same parameters controlling the expression of hundreds and thousands of genes in a gene network, would make the number of differential equations that have to be solved to describe such a realistic situation intractably large, at least for the time being. But, mathematical integration is necessary to handle large amounts of data and model complex biological systems. Such concerns are realistic, and have also been raised by the physicist and evolutionary biologist, Alfred Gierer [130]. Thus, it seems that today's systems biology must, like Odysseus, guide its ship with care and imagination, avoiding the perils of Scylla and Charybdis. On the one hand, large amounts of data are necessary to describe complex biological processes in living systems and on the other, it may turn out that the use of this plethora of data is limited by the availability of algorithms capable of integrating them. This will be a difficult problem to solve for mathematicians and computer specialists.
The relationship between system complexity and the present modelling possibilities is shown in Fig:
5
.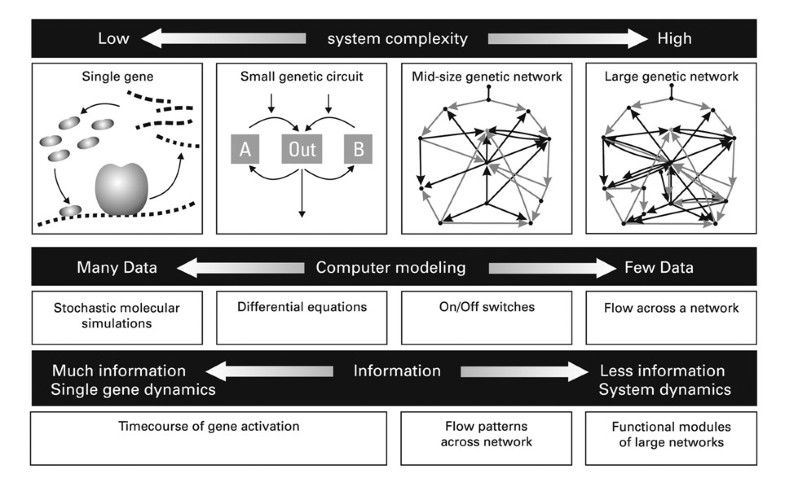 The obvious way to deal with such immense complexity, is simplification and reduction, although there are cogent reasons for which one has had to turn, for example, from single genes to gene networks, because deletions or mutations of single genes often have no discernible effect on the cell. For the time being however, I do not see any other way. However, here again a word of caution is warranted: for any kind of reduction, the question is of course how far can one reduce a complex biological process, without losing characteristic features? There are different ways to reduce complexity. One possibility is to choose a simple object. This is exemplified by Sidney Brenner's [131] introduction and successful use of Caenorhabditis elegans in genetics. The recent discovery of RNA-interference in Caenorhabditis by Craig Mello und Andrew Fire [132] demonstrates the value of a simple experimental object. Although, these experiments show the value of a suitable model organism for experiments in biology, one should not forget that the success of using simple biological objects, depends on the kind of questions asked.
Another possibility to simplify metabolic and genetic networks is to focus only on on/off switches and feedback loops that control whole systems [133]. Rather than studying complex sequences of reactions, one concentrates on the pacemaker of a chain of reactions. An example is the control of a chain of metabolic enzymes, for example glycolysis, by a single enzyme, serving as pacemaker [134], or the control of many genes in an operon by a promoter. These stripped down models may not represent the much more involved dynamics of the actual system in the living cell, but by comparing such simplified models with the actual situation in the cell, one can at least see whether and when, and to what extent, such binary on/off switch models mimic the dynamics of the real complex network in the living cell. For example, such simplified models, could correctly predict the dynamics of the complex genetic network, controlling segment polarity in the development of Drosophila melanogaster[135], and a simplified binary model of the genetic network controlling the yeast cell cycle [136] realistically modelled the actual situation.
I have commented on some of the problems functional genetics and in situ proteomics will face in the future. The extent to which the new in vivo experimental biology of the 21st century will be able to handle these challenges is yet to be seen. The solution of these and other problems will depend on whether we shall be able to handle, both the stochasticity of gene expression and the complexity of the genetic readout. This requires large amounts of reliable in vivo data and algorithms, capable of transforming huge amounts of data into realistic models. Despite all uncertainties and all the problems that remain to be solved, there is no doubt that a new era has begun. On the one side, today's systems biology is part of and profits from today's exponentially growing information technology, that has already proved its ability to handle large amounts of data. (Google and similar search engines are examples). But, systems biology and in vivo proteomics also represent a new experimental biology, for which the living cell and its functions have become research objects. To study processes in the living cell, old techniques, such as microscopy have been refined and new techniques developed. The exponential and continuing progress in the development of techniques in the last years, and the optimism in handling complexity [137] make me optimistic that some, but not all, of the ambitious goals of systems biology and proteomics may be attained. The new area today reminds me of the beginnings of cell biology in the first half of the 19th century, which the microscope in the hands of the pioneers of cell biology, of Rudolf Virchow, [138] and of O. and R. Hertwig, [139, 140], helped to make possible.
In vivo observation of the molecular organisation of living systems will do away with the persuasive argument that the insights obtained by biochemists from in vitro studies are uncertain and tentative, because living systems can only be observed under conditions in which their integrity is preserved. This view was shared by Niels Bohr [141] (1885-1962. Nobel prize for Physics, 1922), who is probably the best-known example of a famous physicist interested in biology. (An interest that may have had its origin in the fact, that his father was a renowned physiologist). The functions and the material properties of a living organism were for Bohr only complementary and could not be derived from one other, a view still shared today by some chemists and physicists. Would Niels Bohr still be alive, he would certainly welcome the new in vivo biochemistry of the 21st century.
Declarations
Acknowledgements
I dedicate this essay to Max Perutz, (1914-2002), to remember his pivotal contributions to the study of structure and function of regulatory proteins.
I am greatly indebted to my colleague Utz Fischer, Professor and Chairman of Biochemistry I at the Biocenter of the University of Würzburg, for critically reading and correcting my manuscript and for sponsoring my publication in Cell Communication and Signaling. Thanks also to one of the referees, who also suggested inclusion of the role of intrinsically disordered proteins in the discussion of internal dynamics of proteins, advice which I have followed.
References
Alberts B: Molecular Biology of the Cell. New York. N.Y. USA, 4Google Scholar
Boeger H, Bushnell DA, Avis R, Griesenbeck J, Lorch Y, Strattan JS, Westover KD, Kornberg RD: Structural basis of eukaryotic gene transcriptions. FEBS Letters. 2005, 579: 899-903. 10.1016/j.febslet.2004.11.027.PubMedGoogle Scholar
What is a Gene?. Nature. 2006, 441: 399-401. News FeatureGoogle Scholar
Benzer S: The fine structure of the gene. Scientific American. 1962, 70-84.Google Scholar
Gilbert W: Why genes in pieces?. Nature. 1978, 271: 501-10.1038/271501a0.PubMedGoogle Scholar
Carr K: Nobel goes to discoverers of "split genes". Nobel Prize for Medicine or Physiology. Nature. 1993, 365: 597.PubMedGoogle Scholar
Dermitzakis ET, Reymond A, Antonarakis SE: Conserved non-genic sequences - an unexpected feature of mammalian genomes. Nat Rev Genet. 2005, 6: 151-157. 10.1038/nrg1527.PubMedGoogle Scholar
Ambros V: The function of animal micro RNA's. Nature. 2004, 431: 350-355. 10.1038/nature02871.PubMedGoogle Scholar
Avery OT, Mac Leod CM, Carty M: Studies on the chemical nature of the substance inducing transformation of pneumococcal types. Induction of transformation by a deoxyribonucleic acid fraction isolated from Pneumococcus Type III. J Exp Med. 1944, 79: 137-158. 10.1084/jem.79.2.137.PubMed CentralPubMedGoogle Scholar
Hershey AD, Chase M: Independent functions of viral protein and nucleic acid in growth of bacteriophage. J Gen Physiol. 1952, 36: 39-56. 10.1085/jgp.36.1.39.PubMed CentralPubMedGoogle Scholar
Watson JD, Crick FHC: Molecular structure of nucleic acid. A structure of deoxyribose nucleic acid. Nature. 1953, 171: 737-738. 10.1038/171737a0.PubMedGoogle Scholar
Watson JD, Crick FHC: Genetical implications of the structure of Deoxyribonucleic Acid. Nature. 1953, 171: 964-967.Google Scholar
Meselson M, Stahl FW: The replication of DNA in Escherichia coli. Proc Natl Acad Sci USA. 1958, 44: 671-682. 10.1073/pnas.44.7.671.PubMed CentralPubMedGoogle Scholar
Crick FHC: On protein synthesis. Symposium of Soc Expt Biol. 1957, 12: 138-163.Google Scholar
Horace Freeland Judson: The eight day of creation. Makers of the revolution in Biology. Expanded Edition. 1996, Cold Spring Harbor Laboratory Press. NY. USAGoogle Scholar
Weismann A: Das Keimplasma. Eine Theorie der Vererbung. Gustav Fischer Verlag, Jena. Deutschland. 1892, (Engl. Ed. 1993)Google Scholar
Temin H: The DNA provirus hypothesis. The establishment and implications of RNA directed DNA synthesis. Science. 1976, 192: 1075-1080. 10.1126/science.58444.PubMedGoogle Scholar
Baltimore D: Viruses, polymerases and cancer. Science. 1976, 192: 632-636. 10.1126/science.57644.PubMedGoogle Scholar
Helmreich EJM: Structural flexibility of small GTPases. Can it explain their functional. Biol Chem. 2004, 355: 1121-1136. 10.1515/BC.2004.146.Google Scholar
Gilbert W: Why genes in pieces?. Nature. 1978, 271: 501-10.1038/271501a0.PubMedGoogle Scholar
Carr K: Nobel goes to discoverers of "split genes". Nobel Prize for Medicine or Physiology. Nature. 1993, 365: 597-PubMedGoogle Scholar
Cech TR, Zaug AJ, Grabowski PJ: In vitro splicing of the ribosomal RNA precursor of Tetrahymena. Involvement of a guanosine nucleotide in the excision of the intervening sequence. Cell. 1981, 27: 487-496. 10.1016/0092-8674(81)90390-1.PubMedGoogle Scholar
Thomas R: Cech and Sidney Altman were awarded with the 1989 Nobel prize for Chemistry. Nature. 271: 501-See also: Exploring the New RNA World. Nobel-lecture by Thomas R. CechGoogle Scholar
Spilianakis CG, Lalioti MD, Town T, Lee GR, Flavell RA: Interchromosomal associations between alternatively expressed loci. Nature. 2005, 435: 637-645. 10.1038/nature03574.PubMedGoogle Scholar
Feinberg AP, Ohlsson R, Henikoff S: The epigenetic progenitor origin of human cancer. Nature Rev Genetics. 2006, 7: 21-33. 10.1038/nrg1748.Google Scholar
Osborne CS, Chakalova L, Mitchell JA, Horton AM, Wood AL, Bolland DJ, Corcoran AE, Fraser P: Myc dynamically and preferentially relocates to a transcription factory occupied by Igh. PLoS Biology. 2007, 192: 1763-1772.Google Scholar
Pinchas A, Toporik A, Edelheit S, Peretz Y, Diber A, Shemesh R, Novik R: Transcription-mediated gene fusion in the human genome. Genome Res. 2006, 16: 30-36.Google Scholar
Kapranov P, Willingham AT, Gingeras TR: Genome-wide transcription and the implications for genomic organization. Nature Reviews Genetics. 2007, 8: 413-423. 10.1038/nrg2083.PubMedGoogle Scholar
Tompa P: Structure and Function of Intrinsically Disordered Proteins. 2010, CRC Press. Taylor and Francis Group. Boca Raton, London, New York, A Chapman and Hall BookGoogle Scholar
Bird A: Perceptions of epigenetics. Nature. 2007, 447: 396-398. 10.1038/nature05913.PubMedGoogle Scholar
Buc H: Allosteric Proteins: Forty years with Monod, Wyman and Changeux. Proceedings of the Academia Nazionale dei Lincei. Rome. Edited by: Brunori M. 2005, Academia dei Lincei. Italy, and personal communication with Henri Buc, 17: 31-49.Google Scholar
Pauling L, Niemann C: The structure of proteins. Science. 1939, 61: 1860-1897.Google Scholar
Anfinsen CB, Haber E, Sela M, White FH: The kinetics of formation of native ribonuclease during oxidation. Proc Natl Acad Sci USA. 1961, 47: 1309-1314. 10.1073/pnas.47.9.1309.PubMed CentralPubMedGoogle Scholar
Richards FM, Vithayathil PJ: The preparation of subtilisin-modified ribonuclease and the separation of the peptide and protein components. J Biol Chem. 1959, 234: 1459-1465.PubMedGoogle Scholar
Lazarides T, Karplus M: Thermodynamics of protein folding. Biophys Chem. 2003, 100: 367-395. 10.1016/S0301-4622(02)00293-4.Google Scholar
Goldberger RF, Epstein CJ, Anfinsen CB: Acceleration of Reactivation of reduced Bovine Pancreatic Ribonuclease by a Microsomal System from Rat Liver. J Biol Chem. 1963, 238: 628-PubMedGoogle Scholar
Fanghänel J, Fischer G: Insights into the Catalytic Mechanism of Peptidyl Prolyl cis/trans Isomerase. Frontiers in Bioscience. 2004, 9: 4553-4587.Google Scholar
Reimer U, Fischer G: Local structural changes caused by peptidyl prolyl cis/trans isomerization in the native state of proteins. Biophysical Chemistry. 2002, 96: 203-212. 10.1016/S0301-4622(02)00013-3.PubMedGoogle Scholar
Walsh KA, Neurath H: Trysinogen and chymotrpsinogen as homologues proteins. Proc Natl Acad Sci USA. 1964, 52: 884-889. 10.1073/pnas.52.4.884.PubMed CentralPubMedGoogle Scholar
Brennan SO, Peach RJ: The processing of human Proinsulin and Chicken Proalbumin by hepatic vesicles suggests a convertase, specific for X-Y Arg-Arg or Arg-X-Y-Arg sequences. J Biol Chem. 1991, 266: 21504-21508.PubMedGoogle Scholar
Ron D, Walter P: Signal integration in the endoplasmic reticulum. Unfolded Protein Response. Nature Rev Mol Cell Biol. 2007, 8: 519-529. 10.1038/nrm2199.Google Scholar
Collinge J, Clark AR: A general model of Prion strains and their pathogenicity. Science. 2007, 318: 930-936. 10.1126/science.1138718.PubMedGoogle Scholar
Ming Y, Cheng F, Hartl FU, Jörg M, Pollock RA, Kalousek Fr, Neupert W, Hallberg EM, Hallberg RL, Horwich AL: Mitochondrial heat-shock protein hsp60 is essential for assembly of proteins imported into yeast mitochondria. Nature. 1989, 337: 620-625. 10.1038/337620a0.Google Scholar
Hartl FU, Hayer-Hartl M: Molecular chaperones in the cytosol. From nascent chain to folded protein. Science. 2002, 295: 1852-1858. 10.1126/science.1068408.PubMedGoogle Scholar
Polier S, Dragovic Z, Bracher A, Hartl FU: Structural basis for cooperative protein folding by HSP 70 and HSP 110 molecular chaperones. Cell. 2008, 133: 1068-1079. 10.1016/j.cell.2008.05.022.PubMedGoogle Scholar
Schiene-Fischer C, Habazettl J, Schmid FX, Fischer G: The hsp70 chaperone DnaK is a secondary amide peptide bond cis/trans isomerase. Nature Structural Biology. 2002, 9: 419-423. 10.1038/nsb804.PubMedGoogle Scholar
Meister G, Hannus S, Plöttner O, Laggerbauer B, Baars T, Hartmann E, Fakan S, Fischer U: SMNrp is an essential pre-mRNA splicing factor required for the formation of the mature spliceosome. EMBO J. 2001, 20: 2304-2314. 10.1093/emboj/20.9.2304.PubMed CentralPubMedGoogle Scholar
Chari A, Golas MM, Klingenhäger M, Neuenkirchen N, Sander B, Englbrecht C, Sickmann A, Stark H, Fischer U: An Assembly Chaperone collaborates with the SMN Complex to generate Spliceosomal SnRNPs. Cell. 2008, 135: 497-509. 10.1016/j.cell.2008.09.020.PubMedGoogle Scholar
Leroux MR, Hartl FU: Cellular functions of molecular chaperones. Mechanisms of Proteinfolding. Published in: Frontiers in molecular Biology. Edited by: Pain RH, Hames BD, Glover DM. 2000, Oxford University Press. Oxford. UK, Chapter 14: 364-392. SecondGoogle Scholar
Perutz M: Mechanisms of cooperativity and allosteric regulation in proteins. 1990, Cambridge University Press. Cambridge, UKGoogle Scholar
Pauling L: A theory of the structure and the process of formation of antibodies. J Am Chem Soc. 1940, 62: 2643-2657. 10.1021/ja01867a018.Google Scholar
Lancet D, Pecht I: Kinetic evidence for hapten-induced conformational transition in immunoglobin MOPC 460. Proc Natl Acad Sci USA. 1976, 73: 3549-3553. 10.1073/pnas.73.10.3549.PubMed CentralPubMedGoogle Scholar
Metzger H: The effect of antigen on antibodies: Recent studies. Contemporary Topics in Molecular Immunology. 1978, 7: 119-152.PubMedGoogle Scholar
Foote J, Milstein C: Conformational isomerism and the diversity of antibodies. Proc Natl Acad Sci USA. 1994, 91: 10370-10374. 10.1073/pnas.91.22.10370.PubMed CentralPubMedGoogle Scholar
Kramer A, Keitel T, Winkler K, Stöcklein W, Höhne W, Schneider-Mergener J: Molecular basis for the binding promiscuity of an anti-p24 (HIV-1) monoclonal antibody. Cell. 1997, 91: 799-809. 10.1016/S0092-8674(00)80468-7.PubMedGoogle Scholar
James LJ, Roversi P, Tawfi S: Antibody multispecificity mediated by conformational diversity. Science. 2003, 299: 1362-1367. 10.1126/science.1079731.PubMedGoogle Scholar
Wilson IA, Stanfield RL: Antibody-antigen interactions: New structures and new conformational changes. Curr Opin Struct Biol. 1994, 4: 857-867. 10.1016/0959-440X(94)90267-4.PubMedGoogle Scholar
Pecht I: Dynamic aspects of antibody function. The Antigens. Edited by: Sela M. Academic Press, New York. USA; 1982, 6: 1-49.Google Scholar
Michaelides MC, Sherman R, Helmreich E: The Interaction of Muscle Phosphorylase with Soluble Antibody Fragments. J Biol Chem. 1964, 239: 4171-4181.PubMedGoogle Scholar
Perutz M: Mechanisms of cooperativity and allosteric regulation in proteins. Cambridge. UK 1990.Google Scholar
Helmreich EJM: The Biochemistry of Cell signalling. Oxford University Press. Oxford. UK, 190-209.Google Scholar
Finlay BB, Falkow S: Common themes in microbial pathogenicity revisited. Microbiol Mol Biol Rev. 1997, 61 (2): 136-169.PubMed CentralPubMedGoogle Scholar
Meylan E, Tschopp J, Karin M: Intracellular pattern recognition receptors in the host response. Nature. 2006, 442: 39-44. 10.1038/nature04946.PubMedGoogle Scholar
Stroud RM, Wells JA: Mechanistic Diversity of Cytokine Receptor Signaling across Cell Membranes. Science. 2004, 7: 1-17. 10.1126/stke.2312004re7.Google Scholar
Bazan JF: Emerging families of cytokines and receptors. Curr Biol. 1993, 3: 603-606. 10.1016/0960-9822(93)90009-D.PubMedGoogle Scholar
Wang Y, Shen BJ, Sebald W: A mixed-charge pair in human interleukin 4 dominates high-affinity interaction with the receptor chain. Proc Natl Acad Sci USA. 1997, 94: 1657-1662. 10.1073/pnas.94.5.1657.PubMed CentralPubMedGoogle Scholar
Hage T, Sebald W, Reinemer P: Crystal structure of the interleukin-4 receptor chain complex reveals a mosaic binding interface. Cell. 1999, 97: 271-281. 10.1016/S0092-8674(00)80736-9.PubMedGoogle Scholar
Zhang JL, Buehner M, Sebald W: Functional epitope of common γ chain for interleukin-4 binding. Eur J Biochem. 2002, 269: 1490-1499. 10.1046/j.1432-1033.2002.02796.x.PubMedGoogle Scholar
Cunningham BC, Wells JA: Comparison of a structural and a functional epitope. J Mol Biol. 1993, 234: 554-563. 10.1006/jmbi.1993.1611.PubMedGoogle Scholar
Weljie AM, Hwang PM, Vogel HJ: Solution structures of the cytoplasmic tail complex from platelet integrin α IIb- and β 3-subunits. Proc Natl Acad Sci USA. 2002, 99: 5878-5883. 10.1073/pnas.092515799.PubMed CentralPubMedGoogle Scholar
Hogg N, Leitinger B: Shape and shift changes related to the function of leukocyte integrins LFA-1 and Mac-1. J Leukoc Biol. 2001, 69: 893-898.PubMedGoogle Scholar
Schwartz MA, Ginsberg MH: Networks and crosstalk: Integrin signalling spreads. Nat Cell Biol. 2002, 4: 65-68. 10.1038/ncb0402-e65.Google Scholar
Milligan G: Oligomerisation of G-protein-coupled receptors. J of Cell Science. 2001, 114 (7): 1265-1271.Google Scholar
Palczewski K, Kumasaka T, Hori T, Behnke CA, Motoshima H, Fox BA, Le Trong I, Teller DC, Okada T, Stenkamp RE, Yamamoto M, Miyano M: Crystal structure of rhodopsin: A G protein-coupled receptor. Science. 2000, 289: 739-745. 10.1126/science.289.5480.739.PubMedGoogle Scholar
Subramaniam S, Lindahl M, Bullough P, Faruqi AR, Tittor J, Oesterhelt D, Brown L, Lanyi J, Henderson R: Protein conformational changes in the bacteriorhodopsin photocycle. J Mol Biol. 1999, 287: 145-161. 10.1006/jmbi.1999.2589.PubMedGoogle Scholar
Scheerer P, Hildebrand PW, Kim YJ, Krauss N, Choe HW, Hofmann KP, Ernst O: Crystal structure of opsin in ist G-protein-interacting conformation. Nature. 2008, 455: 497-502. 10.1038/nature07330.PubMedGoogle Scholar
Rasmussen SG, Choi HJ, Rosenbaum DM, Kobilka TS, Thian FS, Edwards PC, Burghammer M, Ratnala VR, Sanishvili R, Fischetti RF, Schertler GF, Weis WI, Kobilka BK: Crystal structure of the human beta 2 adrenergic G protein-coupled receptor. Nature. 2007, 450: 383-387. 10.1038/nature06325.PubMedGoogle Scholar
Helmreich EJM, Hofmann KP: Structure and function of proteins in G- protein coupled signal transfer. Biochim Biophys Acta. 1996, 1286: 285-322.PubMedGoogle Scholar
Strange PG: G-protein coupled receptors: Conformations and states. Biochem Pharmacol. 1999, 58: 1081-1088. 10.1016/S0006-2952(99)00144-6.PubMedGoogle Scholar
Pawson T, Nash P: Assembly of cell regulatory systems through protein interaction domains. Science. 2003, 300: 445-452. 10.1126/science.1083653.PubMedGoogle Scholar
Böhme I, Beck-Sickinger AG: Review: Illuminating the life of GPCR's, (G-proten-coupled receptors). Cell Communication and Signaling. 2009, 7: 16-10.1186/1478-811X-7-16.PubMed CentralPubMedGoogle Scholar
Austin RH, Beeson KW, Eisenstein L, Frauenfelder H, Gunsalus IC: Dynamics of ligand binding to myoglobin. Biochemistry. 1975, 14: 5355-5373. 10.1021/bi00695a021.PubMedGoogle Scholar
Frauenfelder H, Sligar SG, Wolynes PG: The energy landscapes and motions of proteins. Science. 1991, 254: 1598-1603. 10.1126/science.1749933.PubMedGoogle Scholar
Böckmann RA, Grubmüller H: Nanoseconds molecular dynamics simulation of primary mechanical energy transfer steps in F1-ATP synthase. Nat Struct Biol. 2002, 9: 198-202.PubMedGoogle Scholar
Special issue on Single Molecules. Science. 1999, 283: 1593-1804.Google Scholar
Haas J, Vöhringer-Martinez E, Bögehold A, Matthes D, Pelah A, Abel B, Grubmüller H: Primary steps pf pH-dependent insulin aggregation kinetics are governed by conformational flexibility. Chem Biol Chem. 2009, 10: 1816-1822.Google Scholar
Wagner G, Wüthrich K: Dynamic model of globular protein conformations based on NMR studies in solution. Nature. 1978, 275: 247-248. 10.1038/275247a0.PubMedGoogle Scholar
Palmer III, Arthur G: Characterization of the Dynamics of Biomacromolecules. NMR Chem Rev. 2004, 104: 3623-3640.PubMedGoogle Scholar
Mulder FA, Mittermaier A, Hon B, Dahlquist FW, Kay LE: Studying excited states of proteins by NMR spectroscopy. Nature Structural Biology. 2001, 8: 932-935. 10.1038/nsb1101-932.PubMedGoogle Scholar
Huang YJ, Montelione GT: News and views: Structural Biology: Proteins flex to function. Nature. 2005, 438: 36-37. 10.1038/438036a.PubMedGoogle Scholar
Eisenmesser EZ, Millet O, Labeikovsky W, Korzhnev DM, Wolf-Watz M, Bosco DA, Skalicky JJ, Kay LE, Kern D: Intrinsic dynamics of an enzyme underlies catalysis. Nature. 2005, 438: 117-121. 10.1038/nature04105.PubMedGoogle Scholar
Eisenmesser EZ, Bosco DA, Akke M, Kern D: Enzyme Dynamics during Catalysis. Science. 2002, 295: 1520-1523. 10.1126/science.1066176.PubMedGoogle Scholar
Fischer G: Chemical aspects of peptide bond isomerisation. Chem Soc Rev. 2000, 29: 119-127. 10.1039/a803742f.Google Scholar
Tjandra N, Feller SE, Pastor RW, Bax A: Rotational diffusion anisotropy of human ubiquitin from 13 N NMR relaxation. J Am Chem Soc. 2005, 117: 12562-12566. 10.1021/ja00155a020.Google Scholar
Johnson EC, Lazar GA, Desjarlais JR, Handel TM: Solution structure and dynamics of a designed hydrophobic core variant of ubiquitin. Struct Fold Des. 1999, 7: 967-976. 10.1016/S0969-2126(99)80123-3.Google Scholar
Schwieters CD: How much backbone motion in ubiquitin is required to account for dipolar coupling data measured in multiple alignment media as assessed by independent cross validation?. J Am Chem Soc. 2004, 126: 2923-2938. 10.1021/ja0386804.PubMedGoogle Scholar
Best RB, Clarke J, Karplus M: The origin of protein side chain order parameter distributions. J Am Chem Soc. 2004, 126: 7734-7735. 10.1021/ja049078w.PubMedGoogle Scholar
Walsh CT: Posttranslational Modifications of Proteins: Expanding Nature's Inventory. Roberts and Co. Publ 2006.Google Scholar
Sickmeier M, Hamilton JA, Le Gall T, Vacie V, Cortese MS, Tantos A, Szabo B, Tompa P, Chen J, Uversky VN, Obradovic Z, Dunker AK: DisProt: the Database of Disordered Proteins. Nucleic Acids Res. Special Issue on Synthetic Biology. 35.1-18. 2007, D786-D793. DatabaseGoogle Scholar
Helmreich EJM: Environmental influences on signal transduction through membranes. A retrospective mini-review. Biophys, Chem. 2003, 100: 519-534. 10.1016/S0301-4622(02)00303-4.Google Scholar
Helmreich EJM, Elson EL: Mobility of proteins and lipids in the membrane. Edited by: Greengard P, Robinson GA. 1984, Advances in Cyclic Nucleotide and Protein Phosphorylation Research. New York, 1-62.Google Scholar
Simons K, Ikonen E: Functional rafts in cell membranes. Nature. 1997, 387: 569-572. 10.1038/42408.PubMedGoogle Scholar
Simons K, Toomre D: Lipid rafts and Signal transduction. Nature Reviews Molecular Cell Biology. 2000, 1: 31-39. 10.1038/35036052.PubMedGoogle Scholar
Nichols B: Without a raft. Nature News and Views. 2005, 436: 637-639. 10.1038/436638a.Google Scholar
Cori CF: Influence of hormones on enzymatic reactions. Proc 1st Internat Congr Biochem. 1949, London, UK. Cambridge University Press, 9-Google Scholar
Helmreich E, Cori CF: The distribution of pentoses between plasma and muscle. J Biol Chem. 1957, 224: 663-679.PubMedGoogle Scholar
Helmreich E: Control of Synthesis and Breakdown of Glycogen. Edited by: Florkin M, Stotz EH. 1969, Elsevier, Amsterdam, Netherlands, 17-92. Chapter II in: Starch and Cellulose. Comprehensive BiochemistryGoogle Scholar
Kipnis DM, Cori CF: Studies of Tissue Permeability. V. The penetration and phosphorylation of 2-deoxyglucose in the rat diaphragm. J Biol Chem. 1959, 234: 171-177. Clark SL Jr.: The synthesis and storage of protein by isolated lymphoid cells, examined by autoradiography with the electron microscope. Am. J. Anat. 1966, 119:375-404PubMedGoogle Scholar
Heithier HD, Hallmann F, Boege H, Reilander C, Deed KA, Jaeggi DJ, Arndt-Jovin TM, Jovin Helmreich EJM: Synthesis and properties of fluorescent beta-adrenoceptor ligands. Biochemistry. 1994, 33: 9126-9134. 10.1021/bi00197a015.PubMedGoogle Scholar
Henis YI, Hekman M, Elson EL, Helmreich EJM: Lateral motion of ß-receptors in membranes of cultured livercells. Proc Natxl Acad Sci USA. 1982, 79: 2907-2911. 10.1073/pnas.79.9.2907.Google Scholar
Tsien RY: Fluorescent probes of cell signalling. Annu Rev Neurosci. 1989, 12: 227-253. 10.1146/annurev.ne.12.030189.001303.PubMedGoogle Scholar
Tsien RY: The green fluorescent protein. Annu Rev Biochem. 1998, 67: 509-544. 10.1146/annurev.biochem.67.1.509.PubMedGoogle Scholar
Thompson RE, Larson DR, Webb WW: Precise nanometer localization analysis for individual fluorescent probes. Biophys J. 2002, 82: 2775-2783. 10.1016/S0006-3495(02)75618-X.PubMed CentralPubMedGoogle Scholar
Lohse MJ, Nikolaev VO, Hein P, Hoffmann C, Vilardaga JP, Bünemann M: Optical techniques to analyze real-time activation and signaling of G-protein-coupled receptors. Trends in Pharmacological Sciences. 2008, 29 (3): 159-165.PubMedGoogle Scholar
Vilardaga JP, Bünemann M, Krasel C, Castro M, Lohse MJ: Measurement of the millisecond activation switch of G protein-coupled receptors in living cells. Nat Biotechnol. 2003, 21: 807-812. 10.1038/nbt838.PubMedGoogle Scholar
Hein P, Rochais F, Hoffmann C, Dorsch S, Nikolaev VO, Engelhardt S, Berlot CH, Lohse MJ, Bünemann M: Gs activation is time-limiting in initiating receptor-mediated signaling. J Biol Chem. 2006, 281: 33345-33351. 10.1074/jbc.M606713200.PubMedGoogle Scholar
Tsien RY: Imagining imaging's future. Nature Rev Mol Cell Biol. 2003, 4: 16-21.Google Scholar
Hell SW: Toward fluorescence nanoscopy. Nat Biotechnol. 2003, 21: 1347-1355. 10.1038/nbt895.PubMedGoogle Scholar
Hell SW: Far-Field Optical nanoscopy. Science. 2007, 316: 1153-1158. 10.1126/science.1137395.PubMedGoogle Scholar
Huang B, Wang W, Bates M, Zhuang X: Three-Dimensional Super-Resolution Imaging by Stochastic Optical Reconstruction Microscopy. Science. 2008, 319: 810-813. 10.1126/science.1153529.PubMed CentralPubMedGoogle Scholar
Baumeister W: Electron tomography: Towards visualizing the molecular organization of the cytoplasm. Curr Opin Struct Biol. 2002, 12: 679-684. 10.1016/S0959-440X(02)00378-0.PubMedGoogle Scholar
Medalia O, Weber I, Frangakis AS, Nicastro D, Gerisch G, Baumeister W: Macromolecular architecture in eukaryotic cells visualised by cryoelectron tomography. Science. 2002, 298: 1209-1213. 10.1126/science.1076184.PubMedGoogle Scholar
Inomata K, Ohno A, Tochio H, Isogai S, Tenno T, Nakase I, Takeuchi T, Ikuhiko N, Futaki S, Ito Y, Hiroaki H, Shirakawa M: High-resolution multi-dimensional NMR spectroscopy of proteins in human cells. Nature. 2009, 458: 106-109. 10.1038/nature07839.PubMedGoogle Scholar
Sakakibara D, Sasaki A, Ikeya T, Hamatsu J, Hanashima T, Mishima M, Yoshimasu M, Hayashi N, Mikawa T, Wälchli M, Smith BO, Shirakawa M, Guntert P, Ito Y: Protein structure determination in living cells by in-cell NMR spectroscopy. Nature. 2009, 458: 102-105. 10.1038/nature07814.PubMedGoogle Scholar
Thibault P, Dierolf M, Menzel A, Bunk O, David C, Pfeiffer F: High-Resolution Scanning X-ray Diffraction Microscopy. Science. 2008, 321: 379-382. 10.1126/science.1158573.PubMedGoogle Scholar
Chapman HN: Focus on X-ray Diffraction. Science. 2008, 321: 352-353. 10.1126/science.1161183.PubMedGoogle Scholar
White SH: Perspectives Biochemistry. Science. 2007, 317: 1045-1046. 10.1126/science.1148010.PubMedGoogle Scholar
The ENCODE Project Consortium: Science. 2004, 306: 636-640. 10.1126/science.1105136.Google Scholar
Bornholdt S: Less Is More in Modeling Large Genetic Networks. Perspectives: Systems biology. Science. 2005, 310: 449-451. 10.1126/science.1119959.PubMedGoogle Scholar
Gierer A: Relation between neurophysiological and mental states. Possible limits of decodability. Naturwissenschaften. 1983, 70: 282-287. 10.1007/BF00404834.PubMedGoogle Scholar
Brenner S: The genetics of Caenorhabditis elegans. Genetics. 1974, 77: 71-94.PubMed CentralPubMedGoogle Scholar
Fire A, Xu SQ, Montgomery MK, Kostas SA, Driver SE, Mello CC: Potent and specific genetic interference by double stranded RNA in Caenorhabditis elegans. Nature. 1998, 391: 806-811. 10.1038/35888.PubMedGoogle Scholar
Brandman O, Ferrell JE, Li R, Meyer T: Interlinked Fast and Slow Positive Feedback Loops Drive Reliable Cell Decisions. Science. 2005, 310: 496-498. 10.1126/science.1113834.PubMed CentralPubMedGoogle Scholar
Helmreich EJM, Cori CF: Regulation of glycolysis in muscle. Advances in Enzyme Regulation. 1965, 3: 91-107. 10.1016/0065-2571(65)90045-2.Google Scholar
Dassow G, Meir E, Munro EM, Odel GM: The segment polarity network is a robust developmental module. Nature. 2000, 406: 188-192. 10.1038/35018085.Google Scholar
Li F, Long T, Lu Y, Ouyang Q, Tang C: The yeast cell-cycle network is robustly designed. Proc Natl Acad Sci USA. 2004, 101: 4781-4786. 10.1073/pnas.0305937101.PubMed CentralPubMedGoogle Scholar
Gilbert SF, Sarkar S: Embracing complexity: Organicism for the 21st century. Developmental Biology. 2000, 219: 1-9. 10.1006/dbio.1999.9475.Google Scholar
Virchow R: Rudolf Virchow. Ludwig Aschoff. Hoffmann & Campe, Verlag. Hamburg 1940.Google Scholar
Hertwig O: Das Problem der Befruchtung und der Isotropie des Eies. Eine Theorie der Vererbung. Jenaische Zeitschrift für Naturwissenschaft. 1884, 18: 21-23.Google Scholar
Hertwig R: Lehrbuch der Zoologie. 9. Aufl., Jena. Deutschland. 1910.Google Scholar
Bohr N: Light and life. Naturwissenschaften. 1933, 21: 245-250. 10.1007/BF01504277.Google Scholar
Copyright
© Helmreich; licensee BioMed Central Ltd. 2010
This article is published under license to BioMed Central Ltd. This is an Open Access article distributed under the terms of the Creative Commons Attribution License (http://creativecommons.org/licenses/by/2.0), which permits unrestricted use, distribution, and reproduction in any medium, provided the original work is properly cited.