Illuminating the life of GPCRs
Cell Communication and Signaling
2009
7:16
Received: 08 May 2009
Accepted: 14 July 2009
Published: 14 July 2009
Abstract
The investigation of biological systems highly depends on the possibilities that allow scientists to visualize and quantify biomolecules and their related activities in real-time and non-invasively. G-protein coupled receptors represent a family of very dynamic and highly regulated transmembrane proteins that are involved in various important physiological processes. Since their localization is not confined to the cell surface they have been a very attractive "moving target" and the understanding of their intracellular pathways as well as the identified protein-protein-interactions has had implications for therapeutic interventions. Recent and ongoing advances in both the establishment of a variety of labeling methods and the improvement of measuring and analyzing instrumentation, have made fluorescence techniques to an indispensable tool for GPCR imaging. The illumination of their complex life cycle, which includes receptor biosynthesis, membrane targeting, ligand binding, signaling, internalization, recycling and degradation, will provide new insights into the relationship between spatial receptor distribution and function. This review covers the existing technologies to track GPCRs in living cells. Fluorescent ligands, antibodies, auto-fluorescent proteins as well as the evolving technologies for chemical labeling with peptide- and protein-tags are described and their major applications concerning the GPCR life cycle are presented.
Keywords
Green Fluorescent ProteinFluorescence Correlation SpectroscopyAffibody MoleculeEnhanced Yellow Fluorescent ProteinChemical Label
Review
Introduction
G-protein coupled receptors (GPCRs) are integral membrane proteins, consisting of a single polypeptide chain with seven transmembrane domains (TMD). They control and influence a diversity of physiological functions by mediating the signal of a wide variety of stimuli such as peptide hormones, neurotransmitters, neuropeptides, autocrine factors and even photons. Thereby the ligand transmits its activity to an intracellular signal through activation of a heterotrimeric guanosine triphosphate-binding protein (G-protein) by the receptor. As a result, a broad range of downstream intracellular signals are activated, leading to both short-term effects (e.g. changes in intracellular calcium levels) and long-term effects (e.g. gene transcription). Representing the largest family of transmembrane signaling molecules in the human genome, GPCRs are a very important class of therapeutic targets for the pharmaceutical industry and nearly half of the drugs currently in use act on these biomolecules.
In addition to the binding of ligands and G-proteins, GPCRs interact with a broad range of other proteins with potential roles specifically in receptor biosynthesis, distribution, signaling, desensitization, clustering, internalization, trafficking and degradation. These include other GPCRs, GPCR kinases (GRKs), second-messenger-dependent kinases, arrestin molecules, molecular chaperones, receptor-activity-modifying proteins (RAMPs) and PDZ-domain-containing proteins [1]. For an excellent review that summarizes these activities including schematic figures see [2]. The relationship between agonist-induced activation of receptors, receptor translocation and cell function has previously been shown to be difficult to investigate because it is a dynamic process and localization of receptors by standard biochemical methods offers insufficient high-resolution spatial information. In addition, the expression levels of GPCRs are generally low in native systems, which make the detection even more difficult. But elucidating these interactions will help to understand their cellular functions in order to develop new and improved pharmaceuticals. Since there is evidence that several peptide hormone receptors are over-expressed in various human cancer cells it has been a challenge to develop regulatory, receptor-binding peptides as agents for tumor diagnosis and therapy. However receptor-mediated internalization is a prerequisite for this type of study [3]. Therefore novel methods to study receptor localization and function are needed as well as the extension of techniques to visualize and quantify involved biomolecules and processes with a spatiotemporal high-resolution and sensitivity [4].
Classically, receptors have been studied using radioactive isotopes, enzyme-linked immunosorbent assays (ELISAs) or functional responses in isolated tissue or organ preparations. The disadvantages of these methods, such as radioactive hazards and the limitations of studying the molecular dynamics of receptor activation have hindered advancements in receptor research. Biochemical methods for the investigation of protein-protein-interactions, such as co-immunoprecipitation assays, Western-blot analysis, "pulldown" approaches or yeast two-hybrid experiments have several drawbacks, e.g. artifacts owing to harsh techniques that are required to isolate membrane proteins, failure to identify components of a protein complex or false-positive as well as false-negative results. Therefore, non-invasive, real-time imaging methods applied to living cells have become very important in cell biology.
Fluorescence techniques that allow imaging of reporter gene expression, protein trafficking and monitoring of many dynamic biochemical signals have become feasible through the development of novel fluorophores as well as through the improvement of fluorescence instrumentation and advanced data analysis methods [5]. They are considered superior over other existing molecular detection technologies because of their enhanced sensitivity, minimal perturbation, multiplicity of measurable parameters and suitable time scales. This allows the analysis of several biologically relevant molecular processes [6]. Fluorescence is the most sensitive spectroscopic method. Reproducible signals from samples containing less than 1 nM concentrations of some fluorophores can be quantified. The signal can be analyzed by different methods, including its intensity, lifetime, energy (wavelength) and rotational freedom (polarization or anisotropy), to reveal different aspects of a structure, interaction, mechanism or process [7, 8]. Furthermore, fluorescence is a non-destructive phenomenon, so any signal change can be monitored as a function of time to determine its kinetics. Of course it has to be considered that some of the fluorophores might be toxic in certain systems, either themselves or by generating free radicals.
Techniques such as scanning confocal microscopy (SCM) and fluorescence correlation spectroscopy (FCS) have offered the establishment of assays at the single cell [9] and the single molecule level [10]. Confocal and multiphoton microscopes coupled with sophisticated image analysis software packages are becoming affordable. The development of very high resolution, high sensitivity cameras and 3D deconvolution methods advances the area of quantitative 4D imaging [11]. Microscopy methods such as total internal reflection fluorescence microscopy (TIRFM) and interference reflection microscopy (IRM) can be used for selective imaging of the plasma membrane of cells, e.g. to study exo- and endocytic pathways or plasma membrane dynamics during internalization [12–14].
Fluorescent labeling reagents are an essential component of a huge industry built on sensitive fluorescence detection and reagents with close to maximum theoretical brightness are available in many different colors. Hundreds of small organic dyes for covalent labeling of macromolecules have been developed and industrially optimized in their wavelength range, brightness, photo-stability and reduced in self-quenching. Strategies have included extension of double-bond conjugation, rigidification through extra rings and decoration with electron-withdrawing or obligatorily charged substituents such as fluorines or sulfonates [15, 16]. Labeling of proteins with fluorescent probes or affinity reagents has facilitated in vitro studies of protein structure, dynamics and protein-protein-interactions. However, traditional methods of protein labeling are often inadequate for in vivo studies, because they require purification of the protein, chemical labeling, re-purification and re-introduction into cells by invasive methods such as micro-injection or electroporation. These limitations have spawned efforts to label proteins in living cells or tissues non-invasively.
Appropriate methods for the study of receptor trafficking and regulation in native systems have not been available up to now. The limited axial (z) resolution of fluorescence and confocal-based microscopy impedes the imaging of receptors in individual cells deep within living tissues. The recent development and availability of fluorescent antibodies, fluorescent ligands and recombinant DNA technologies to label GPCRs in living cells provide new insights into their "real life" and "fate". Studies with GPCRs in living dissociated hepatocytes and vascular smooth muscle cells revealed quantitative data on receptor localization and translocation, which highly correlated with results obtained with fluorescent ligands or heterologous expression systems [9].
Subcellular distribution patterns have become an essential component of GPCR characterization that might have multiple regulatory consequences. For example, intracellular receptor pools that are rapidly transported to the cell membrane upon activation have been suggested to reduce desensitization and/or potentiate signaling. Many receptor subtypes have been shown to differ in their subcellular localization within the same cell type and particular receptors might localize differently depending on the cell type in which they are expressed. Unraveling these trafficking pathways and heterologous interactions by live imaging methods is strongly supported by the existence of various markers for intracellular compartments and pathways, as well as by inclusion of inhibitors for these processes, to fully understand the complex network [17].
This review will focus on the existing technologies to track GPCRs in living cells, such as fluorescent ligands and antibodies, auto-fluorescent proteins (AFPs) as well as peptide- and protein-tag technologies, such as the Lumio™- or SNAP™-tag (Figure
1
). We aim to cover the major applications of these labeling methods in fluorescence imaging in order to provide a survey on the current state-of-the-art.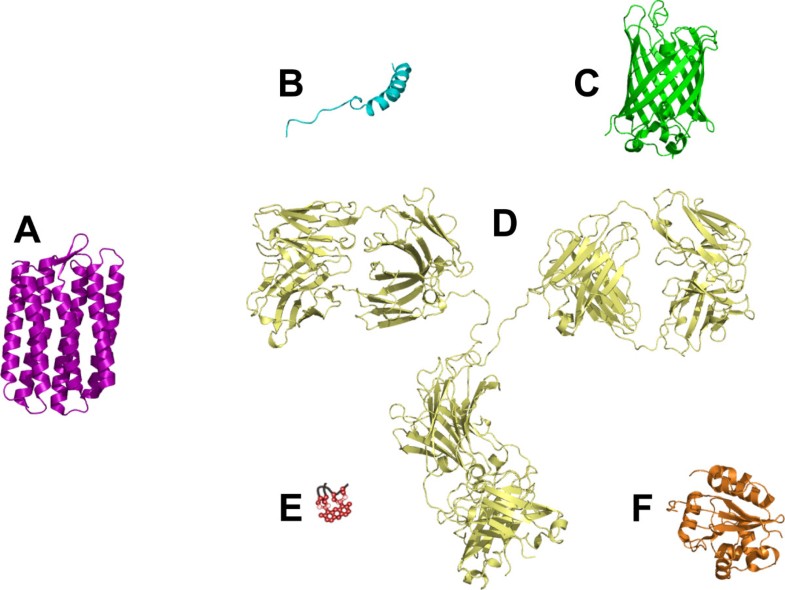 Methods to label and visualize GPCRs
Fluorescence applications to study GPCRs
The described methodologies to label GPCRs provide the possibility to monitor the expression and cellular localization of these biomolecules. But visualization represents only the first step of a variety of colorful applications for unraveling biological processes. The investigation of GPCR functionality, clustering, trafficking, biosynthesis and degradation as well as the identification and visualization of important protein-protein-interactions, such as receptor oligomerization, ligand binding, G-protein coupling and arrestin recruitment in living cells has become feasible. Recent advances in fluorescence instrumentation not only allow qualitative but also quantitative data analysis and led to the ongoing development of high-throughput applications.
Conclusion
It is proven that fluorescence techniques are powerful tools for investigation of the very dynamic family of GPCRs to understand their subcellular localisation and to further elucidate key elements in GPCR trafficking and interaction with other signal pathways.
However, to obtain physiologically relevant results, some considerations have to be made. First, it is of utmost importance that the investigated GPCR, ligand or interacting protein is not influenced in its functionality by the fluorescent modification. Therefore careful characterizations are needed and to exclude interferences it might be helpful to apply different labels at different sites of the protein for data evaluation [212]. Additionally, the label should be as small as possible, the recent and ongoing development and optimization of self-labeling tags will be advantageous in this field. Using unnatural amino acid mutagenesis the site-specific incorporation of reactive keto groups, such as p-benzoyl-L-phenylalanine (Bzp) or p-acetyl-L-phenylalanine (Acp), into functional GPCRs and their ability to react with a variety of spectroscopic and other probes was previously described [213]. Because of their excellent fluorescent properties quantum dots are very attractive for labeling, however the full potential of QDs for cellular imaging has not yet been realized because of problems with large QD size, QD multivalency and the difficulty of delivering QDs into the cytosol. Recently, monovalent and reduced-size quantum dots were generated and successfully applied for receptor imaging in living cells [214].
Fluorescent antibodies provide a powerful tool for examining the cellular distribution of GPCRs. However, quantification is highly depended on the accessibility of – in most cases – the small epitope by the large antibody. The challenge is to develop even more high-affinity fluorophore- or enzyme-conjugated primary antibodies for one-step labeling assays on living cells. The generation of bright and stable dyes as well as pH sensitive ones, such as CypHer 5 [34], will lead to further insights into the life of GPCRs and will enable high-throughput screening applications. A new group of molecules, called affibody molecules, is especially interesting for imaging applications because of their small size (7–15 kDa) compared to antibodies. These proteins are composed of a three-helix bundle of 58 amino acids and are derived from the scaffold of one of the IgG-binding domains of the staphylococcal protein A [215]. The binding site is equivalent to an antibody with respect to the surface area. The size, the simple structure, the specific target recognition, the ease of production and the high stability give affibody molecules significant advantages over antibodies. These molecules can be labeled with fluorophores but also with radionuclides which make them promising candidates for GPCRs associated tumor diagnosis and therapy [216].
Recombinant DNA technologies have highly advanced fluorescence labeling as well as transfection and transgenic techniques that enable simple DNA delivery to cells that results in covalent labeling by using the protein expression system of the cell. However, expression levels in cell cultures may significantly differ from those in natural systems. Concerning the signaling and trafficking behavior of GPCRs the relationship between the occupation of the receptor by physiological levels of agonists and the initiation of translocation is an important issue. The general use of very high concentrations of agonist leaves open the possibility that the investigated processes are more pharmacological than physiological.
A major criticism of FRET/BRET studies used to investigate protein-protein-interactions, is that the required protein overexpression can result in RET attributed to a high incidence of random collisions, rather than direct protein-protein-interactions. If low expression levels can not be obtained by varying DNA amounts within transient cell transfections, stable cell transfections will provide an alternative, since there is a homogenous population of cells expressing the protein of interest at the same level. Another possibility is the baculovirus expression system which enables protein expression levels to be controlled more closely than with transient transfection, because protein expression can be titrated by adjusting the multiplicity of viral infection [217].
Since protein co-localization is the first prerequisite for interactions, this should be proven by fluorescence microscopy, and by using parallel labeling strategies to locate subcellularly the interaction of interest. For correct evaluation of FRET and BRET data appropriate controls have to be used to demonstrate the specificity of the interactions and to establish levels of RET considered to be background in any given experiment. The additional application of a biochemical approach might support the results. To validate the physiological role of the detected interaction studies in other, more natural cell systems, e.g. cell lines endogenously expressing one protein of interest, as well as investigations on tissues and animals will be indispensable in proving the relevance of the interactions in the future. For example, the in vivo co-expression of GPCRs has to be demonstrated in the same tissue, and ideally in the same cell for establishing the physiological relevance of receptor oligomerization. Functional cross-talk between the receptor signaling pathways as well as novel pharmacological and/or functional properties will provide evidence for the mechanism by which receptor-receptor-interactions modulate cellular activity [218].
An exciting application of GPCR-GFP chimeras involves their use in genetic screens in genetically tractable organisms such as yeast, e.g. to identify mutant yeast strains in which the receptor is mis-localized. Such strategies contribute greatly to the identification of new components involved in GPCR targeting and trafficking in additional model organisms [219]. New approaches using whole organisms, in which the GFP-chimera can be expressed under the control of the endogenous promoter, e.g. invertebrates as C. elegans or mouse models, allow cell biological, molecular and biochemical results to be interpreted in a physiologically relevant context and to be compared to those observed in cultured cells [220, 221]. GFP and its variants as reporters represent the next step in mouse genome engineering technology by opening up the possibility of combinatorial non-invasive reporter usage within a single animal, e.g. for gene-expression, as well as for co-visualization and FRET assays [222].
In summary, many issues concerning the life of GPCRs can be addressed by fluorescence techniques, however many remain challenging. Further rapid advances in labeling and imaging technology can be expected and their parallel as well as their combined application will provide novel insights that will also broaden the range of new therapeutic interventions.
Declarations
Acknowledgements
The financial contribution of the Deutsche Forschungsgemeinschaft (Grants BE1264/5-2 and SFB 610 TP A1) is kindly acknowledged.
Authors' Affiliations
(1)
Institute of Biochemistry, Faculty of Biosciences, Pharmacy and Psychology, Leipzig University, Leipzig, Germany
Copyright
© Böhme and Beck-Sickinger; licensee BioMed Central Ltd. 2009
This article is published under license to BioMed Central Ltd. This is an Open Access article distributed under the terms of the Creative Commons Attribution License (http://creativecommons.org/licenses/by/2.0), which permits unrestricted use, distribution, and reproduction in any medium, provided the original work is properly cited.