When ubiquitination meets phosphorylation: a systems biology perspective of EGFR/MAPK signalling
Cell Communication and Signaling
2013
11:52
Received: 4 April 2013
Accepted: 26 July 2013
Published: 31 July 2013
Abstract
Ubiquitination, the covalent attachment of ubiquitin to target proteins, has emerged as a ubiquitous post-translational modification (PTM) whose function extends far beyond its original role as a tag for protein degradation identified three decades ago. Although sharing parallel properties with phosphorylation, ubiquitination distinguishes itself in important ways. Nevertheless, the interplay and crosstalk between ubiquitination and phosphorylation events have become a recurrent theme in cell signalling regulation. Understanding how these two major PTMs intersect to regulate signal transduction is an important research question. In this review, we first discuss the involvement of ubiquitination in the regulation of the EGF-mediated ERK signalling pathway via the EGF receptor, highlighting the interplay between ubiquitination and phosphorylation in this cancer-implicated system and addressing open questions. The roles of ubiquitination in pathways crosstalking to EGFR/MAPK signalling will then be discussed. In the final part of the review, we demonstrate the rich and versatile dynamics of crosstalk between ubiquitination and phosphorylation by using quantitative modelling and analysis of network motifs commonly observed in cellular processes. We argue that given the overwhelming complexity arising from inter-connected PTMs, a quantitative framework based on systems biology and mathematical modelling is needed to efficiently understand their roles in cell signalling.
Keywords
UbiquitinationUbiquitination-phosphorylation crosstalkQuantitative modellingPhosphorylation-induced ubiquitinationMAPK signalling
Introduction
Cell signalling crucially depends on a repertoire of posttranslational modification (PTM) mechanisms for its regulation. Protein ubiquitination, the covalent attachment of the short protein modifier ubiquitin to target proteins, has emerged as a prevalent modification utilised by signalling processes to regulate a range of functional behaviours. First recognised as a targeting signal to send proteins to the proteosomal degradation pathway[1], ubiquitination has since been implicated in the non-degradative regulation of a plethora of cellular processes, including signal transduction[2], enzymatic activation[2, 3], endocytosis and trafficking[4], chromatin rearrangement[5] and DNA repair[6].
Unlike phosphorylation where the addition of the phosphate group to the modified targets is a rather straightforward single step, ubiquitination occurs in a three-step reaction requiring three different enzymes: an ubiquitin-activating enzyme (E1), an ubiquitin conjugating enzyme (E2), and an ubiquitin ligase enzyme (E3). Ubiquitin is first activated by E1, followed by conjugation to an E2 before finally ligated to the lysine residues of target proteins by the E3 ligase (Figure
1
a,b)[
1
]. While phosphorylation can occur on several different amino acids, primarily serine, threonine, tyrosine and histidine, only a single phosphate group can be added to a particular residue. In contrast, ubiquitination can only target a single amino acid, i.e. lysine, but can attach multiple ubiquitin residues which can be linked via different types of bonds through any one of the seven lysine residues of the ubiquitin molecule., e.g. monoubiquitination, multi-monoubiquitination, and polyubiquitin chains (Figure
1
a,b). The versatile diversity of signalling associated with ubiquitination further stems from the myriad ways in which the polyubiquitin chains can be formed, either as uniform (e.g. containing only Lysine 48 or 63 linkages) or as recently discovered atypical branched chains with mixed linkages (e.g. Lysine 6/27/48-linked chains[
7
]), which seem to serve distinct context-specific functions. Thus like phosphorylation, ubiquitination is a dynamic modification that not only targets proteins for degradation, but can change the conformation and activity of the target proteins. Furthermore, similar to protein phosphorylation, ubiquitination is regulated by pairs of opposing modifying enzymes: E3 ligases and de-ubiquitinating enzymes (DUBs). These regulating proteins, in an analogous manner to kinases and phosphatases, serve to fine-tune the levels of the target protein ubiquitination. An extra level of analogy comes from the observation that, just as the phosphorylation network in which the kinases and phosphatases are often (de)activated by phosphorylation, ubiquitinating enzymes appear to be regulated by ubiquitination events.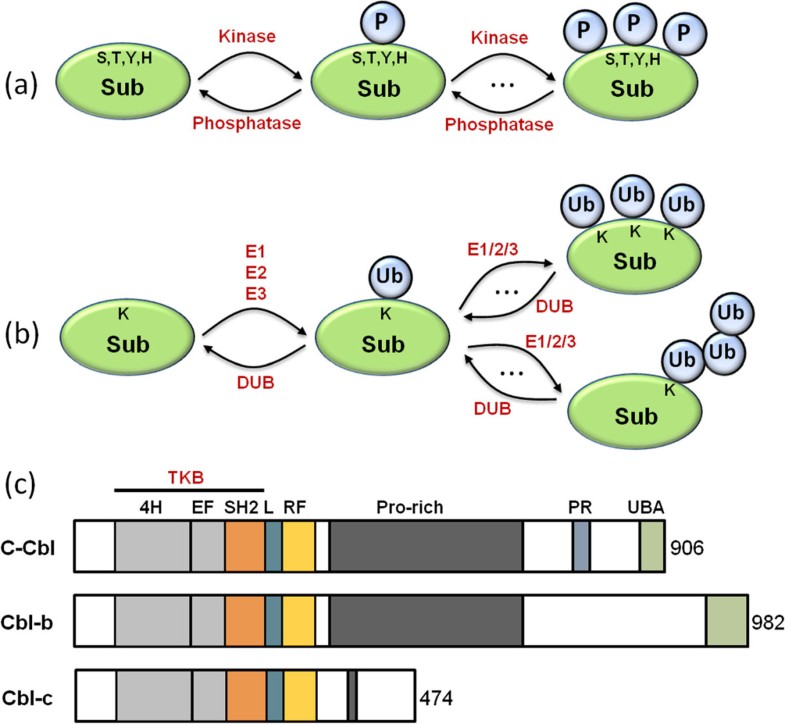 Over the past few years, the interplay between ubiquitination and phosphorylation has emerged as a prominent posttranslational crosstalk and a key principle in eukaryotic cell signalling[8]. Phosphorylation often serves as a marker that triggers subsequent ubiquitination, in particular where ubiquitination leads to degradation[9–11]. In many cases, phosphorylation of substrate E3 ligases acts as a signal that can dramatically influence their activity. In other cases, ubiquitination provide a switching mechanism that can turn on/off the kinase activity of certain proteins[12]. Understanding of how these two major PTMs interact to regulate signal transduction is an important topic in cell signalling. In this review, we discuss the involvement of ubiquitination in the regulation of the epidermal growth factor (EGF)-mediated extracellular signal-regulated kinase (ERK) signalling pathway via the EGF receptor (EGFR), and highlight the interplay between ubiquitination and phosphorylation in this system, which beyond its many physiological functions is also a major player in human cancer. The review contains two parts. In the first part we survey recent biological findings related to ubiquitination and crosstalk with phosphorylation as means for the functional control of the components of the EGFR-mediated ERK pathway, and highlight some remaining open questions. In the second part, we demonstrate the rich and versatile dynamics of crosstalk between ubiquitination and phosphorylation by using quantitative modelling and analysis of various network motifs where such crosstalk is often observed. Multiple lines of evidence from both theoretical and experimental studies have shown that intricate dynamics including bistable switches, mutistability and sustained oscillation can be brought about as a result of the interplay between feedback regulations and nonlinear post-translational modification cascades, such as phosphorylation[13–16], ubiquitination[3] and GTPase cascades[17]. Oscillations in GTPase cascades drive periodic protrusion and retraction of lamellipodia during cell migration[18, 19]. In addition, short-period (20 min) and long-period (4–5 hrs) ERK oscillations have been experimentally reported[15, 16]. It is likely that these complex dynamics may also emerge from crosstalk between phosphorylation and ubiquitination. Our aim here is to illuminate non-trivial dynamics arising from these generic crosstalk mechanisms that would apply not only to the EGFR pathway but to many other pathways. We argue that given the overwhelming complexity originating from interconnected PTMs, a quantitative framework based on systems biology and mathematical modelling is needed to efficiently understand their regulatory roles in cell signalling[20].
Involvement of ubiquitination in EGFR-mediated MAPK signalling pathway
Quantitative modelling as a tool for analysis of ubiquitination-phosphorylation crosstalk networks
The last decade has witnessed an unprecedented explosion of biological knowledge and large data sets acquired for many signalling processes at the cellular level, largely due to the development of sophisticated and high-throughput biochemical techniques in proteomics and other omics. As part of this trend, the studies reviewed in the previous section, although still limited, have revealed a rather complex picture of how ubiquitination and phosphorylation interplay to regulate signal transduction pathways such as the EGFR. The huge complexity hampers our ability to interpret and predict the regulation of the network as a whole, which is essential to better understand EGFR signalling and its role in diseases. To unravel this complexity and obtain a systems-level understanding of network signalling, systems biology approaches employing quantitative frameworks in forms of mathematical and computational models are emerging as promising solutions. These mathematical models provide a platform for the description, prediction and understanding of the various regulatory mechanisms in a quantitative and integrative way[95–98]. In this section, we describe the rich and versatile dynamics of crosstalks between ubiquitination and phosphorylation by using mathematical modelling to analyse a number of network motifs largely motivated by the biological findings discussed in previous sections, and are commonly seen in other signalling processes besides the EGFR pathway.
Phosphorylation-mediated ubiquitination
A recurring theme in the interplay between phosphorylation and ubiquitination is that phosphorylation often influences the ubiquitination and thus degradation of the modified protein, such as in the case of c-Myc[
99
,
100
], androgen receptor[
101
] or the yeast transcriptional factor Rpn4[
102
]. We consider two motifs where phosphorylation either promotes or inhibits ubiquitination-triggered degradation (named motifs 1 and 2, respectively, and illustrated in Figure
4
a, b). Then, we compare these two motifs to a network motif where (de)ubiquitination is not influenced by phosphorylation events, and phosphorylation is omitted (motif 3, in Figure
4
c). As shown in the schematic interactions diagrams, a substrate protein S is assumed to be first activated by an input signal to become active S*, which can be phosphorylated by a kinase (Kin) to form pS*, which is dephosphorylated by a phosphatase (Phos). Both S* and its phosphorylated form pS* are ubiquitinated by an E3 ligase (E3) and subsequently targeted to proteosomal degradation. The rate of ubiquitination is much greater for pS* compared to S* in the phosphorylation-promoted degradation motif 1 (Figure
4
a), whereas it is much less in the phosphorylation-inhibited degradation motif 2 (Figure
4
b). On the other hand, if phosphorylation does not change the (de)ubiquitination and degradation rates as in motif 3 (Figure
4
c), it is sufficient to consider the (de)ubiquitination of S* only. In all three motifs, S is constitutively synthesised to allow for a nonzero steady state. For convenience, we assume that both S* and pS* have the same catalytic activities toward a substrate O whose active state (O*) is used as an output of the systems.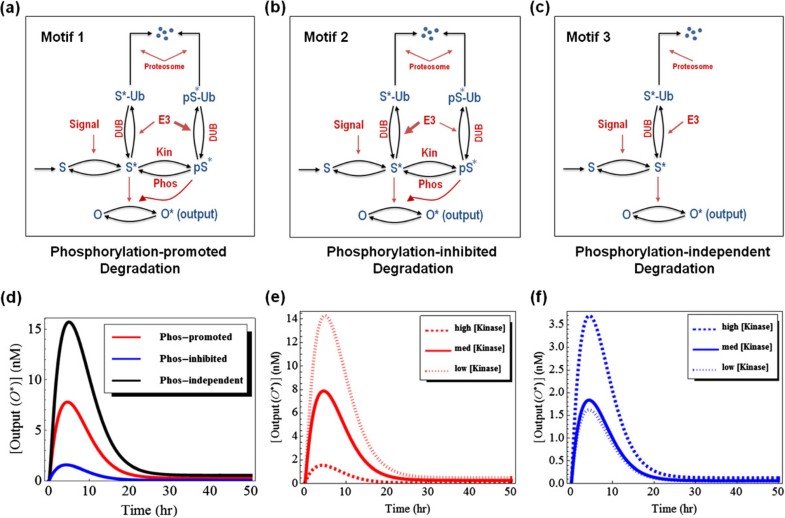 Despite the simplicity of these motifs, intuitive predictions regarding dynamical behaviour of the network components at various abundances of the regulatory proteins (e.g. Kin, Phos or E3) would be a nontrivial task without the employment of mathematical models. We thus constructed models based on ordinary differential equations (ODEs) and the law of enzyme kinetics for these motifs, whose details are given in the Additional file
1
(SI). Using the constructed models, we can simulate time-course as well as steady-state dose–response simulations under various conditions. Figure
4
d compares the time-course dynamics following a step-function input signal for the three motifs. Using the parameters of motif 1 as the reference set, the output shows similar transient pattern with similar peak time but different peak values among the compared motifs, with highest peak in motif 3 followed by motif 1 and then 2. This suggests that tuning differential ubiquitination between the unphosphorylated and phosphorylated forms of S by varying the kinase would be a way to modulate the peak of the output without affecting its dynamical form. Indeed, increasing the kinase abundance decreases the output in motif 1 (Figure
4
e) and increases the output in motif 2 (Figure
4
f) but does not affect the peak time and the adaptive response of the output. Simulations further show that varying the abundance of the E3 ligase strongly influence the output expectedly but does not alter the peak time in motif 1 (Figure
5
a), while this is not the case for motif 3 (Figure
5
b) where more abundant E3 effectively shifts the output peak time to the left. The models also allow predictions of the steady-state dose–response curves. Interestingly, we see that the steady-state level of the output of motif 1 decreases exponentially with increasing kinase abundance, whereas this output linearly increases for motif 2 (Figure
5
c). Thus, augmenting the kinase abundance has opposite regulatory outcomes over the steady-state output levels in these two motifs (Figure
5
c). Increasing the E3 ligase abundance leads to a consistent decrease of the output level in all three motifs (Figure
5
d). Interestingly, the E3-output dependence curves are pushed lower and become more nonlinear (Figure
5
d, dashed lines) when the difference between the ubiquitination rates of S* and pS* becomes more significant due to the kinase, i.e. phosphorylation is more pronounced in influencing ubiquitination.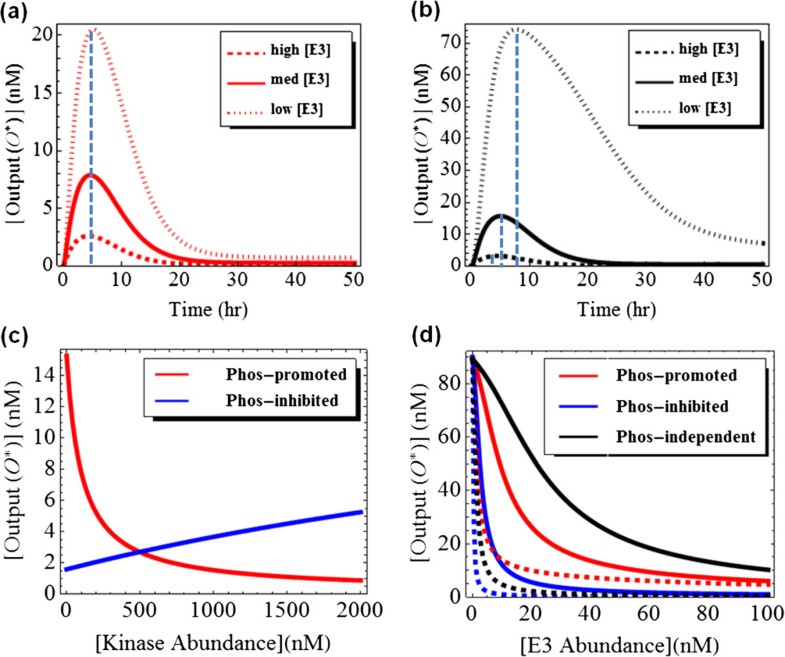 Phosphorylation-mediated ubiquitination motif with feedback
Feedback loops controlling signalling pathways are commonly seen in ubiquitination-phosphorylation networks. Here, we assume that the output target in motif 1 is an E3 ligase, which can ubiquitinate S* and pS* (displayed in Figure
6
a, as motif 4). This creates a negative feedback loop, because an increase in S* will increase the production of active E3 (E3*), which in turn will increase the amount of ubiquitinated S*-Ub and pS*-Ub, which subsequently will decrease the amount of S* and pS*, and thus their output E3*. For protein modification cascades, such as MAPK cascades, it was theoretically predicted[
14
] and subsequently shown experimentally[
15
,
16
,
103
] that a negative feedback loop can bring about sustained oscillations in the protein activities. These oscillations are caused by the time delay within the negative feedback loop and they also require some degree of ultrasensitivity of individual cascade cycles[
14
]. Simulations of our ubiquitination-phosphorylation cascade model demonstrate that above certain threshold strength of negative feedback, motif 4 displays sustained oscillations of network species, e.g. active E3 (E3*) or active S (S* + pS*) (shown in Figure
6
b). Furthermore, such oscillations can be abolished if S is strongly degraded by the proteosome (Figure
6
b, right panel), suggesting the degradation rate can play a determining role in controlling oscillations.

Phosphorylation-induced self-ubiquitination
Self-ubiquitination is often observed among the E3 ligases. While often it is a mechanism to self-control the ligase abundance, it can also serve non-proteolytic functions and can dramatically influence the ligase activity, as in the case of ITCH discussed earlier. Degradation of ITCH is independent of its self-ubiquitination, which occurs through K63 linkages and results in stronger catalytic activity; whereas canonical K48-linked chains generated by other ligases target ITCH for degradation[
83
]. Likewise, self-ubiquitination of NEDD4 leads to better recognition and higher rate of monoubiquitination of Eps15 in the EGFR internalisation and degradation pathway[
32
]. Other E3 ligases with similar property include Ring1B (component of the human Polycomb transcriptional Repressive Complex 1) whose self-ubiquitination generates atypical, branched K6/K27-linked chains and promotes its monoubiquitination activity toward histone H2A[
3
,
7
]. Motivated by these examples, we next analyse a motif where kinase-mediated phosphorylation enhances the rate of self-ubiquitination of an E3 ligase on K63 linkages, which subsequently turns on its ligase activity towards a substrate O, sending it to degradation (Figure
7
a, motif 5). Note that, in some cases, the K63-ubiquitinated E3 can directly or indirectly exert positive regulation over the kinase, providing a positive feedback to the system. We will first consider motif 5 with no feedback.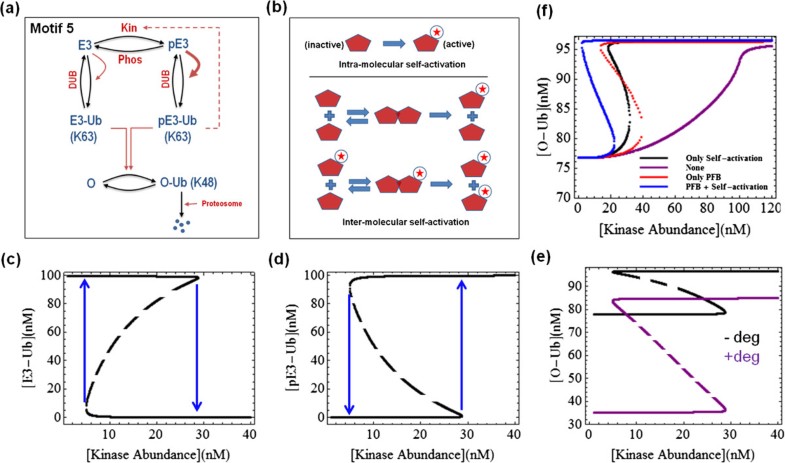 Self-modification reactions can occur in either an intra-molecular or inter-molecular fashion, as depicted in Figure 7b. While our modelling analysis shows that the intra-molecular self-ubiquitination of the E3 ligase does not exhibit intricate dynamics, an inter-molecular form of self-ubiquitination, such as of ITCH discussed above, can bring about bistable behaviour to the system, even without the positive feedback loop[3, 13]. Figures 7c,d show bistability and hysteresis for the ubiquitinated forms of the ligase in response to the kinase abundance changes. Interestingly, E3-Ub and pE3-Ub have opposing off and on switches with the increasing kinase level. Similarly, the output also shows a bistable response, with the hysteresis curve being lower in the presence of high degradation rate (Figure 7e). Finally, we analyse motif 5 when the E3-to-Kinase positive feedback loop is also incorporated. Model analysis reveals that although self-ubiquitination or positive feedback alone is sufficient to give rise to bistability, adding the positive feedback appears to enhance self ubiquitination-induced bistability while adding self-ubiquitination does not necessarily enhance bistability established by the positive feedback (comparing blue to black curves, and blue to red in Figure 7f). Moreover, Figure 7f shows that the presence of both mechanisms brings the systems closer to irreversible hysteresis, indicated by the shift to the left of the corresponding hysteresis curve (blue line).
As discussed earlier, ubiquitination is a multi-step process which depends not only on the abundance and properties of the E3 ligase involved but also on other factors involving the preceding steps, including loading of ubiquitin onto conjugating enzymes E2s and ubiquitin transferring to the substrate. Consideration of these factors may be necessary for a detailed model of the control of the EGFR pathway by ubiquitination. Such work however would require comprehensive experimental effort to provide the missing kinetic data and other quantitative information to calibrate and validate the model.
Our findings of potentially bistable and oscillatory behaviour of the ubiquitination-phosphorylation motifs await experimental testing. In vitro experimental design based on the model analysis results could be the first step in confirming the predictions about the dynamics of the components of interest. An advantage of an in vitro system with purified forms of relevant E3 ligase, kinases and phosphatases is that it can be used to explore wide ranges of precisely set enzyme concentrations. To mimic the in vivo situation, some of these proteins may be embedded into a phospholipid membrane bilayer or liposomes if required, which can also facilitate the formation of protein complexes and increase reaction rates[104]. For instance to detect oscillations in motif 4, the system can be started by addition of the relevant input signal, followed by addition of ubiquitin, the E1/E2 enzymes, E3 ligase, kinase and ATP to the reaction medium. At periodic selected time points, aliquots are taken, and the phosphorylated or ubiquitinated level of the substrate can be measured by immunoblotting using specific antibodies for phosphorylation or ubiquitination. It is however worth mentioning that assembling an oscillatory network in vitro is challenging due to a multitude of factors at play, including the adequate level of ubiquitin and the essential participation of the relevant E1/E2 enzymes. Therefore, direct in vivo approaches like imaging techniques using microscopy-based binding assay can be exploited for high temporal resolution measurements of components kinetics and may be a more favourable option[105]. On the other hand, detection of switches such as in motif 5 can be done by similar measurement techniques in response to increasing titration of a dose component, in this case the involved kinase protein (Figure 7).
In summary, we have constructed mathematical models and carried out analysis for a number of commonly seen motifs of ubiquitination-phosphorylation crosstalk. The motifs, although simplified, show diverse dynamics including sustained oscillations and bistability. More importantly, the models have facilitated the identification of the conditions under which these dynamics may realise, which would have been infeasible if such models are not used. Modelling therefore provides a useful and necessary tool for efficient analysis of ubiquitination-phosphorylation crosstalk, thereby potentially improving our systems-level understanding of the integrated EGFR signalling.
Conclusions
Since the first discovery of protein ubiquitination more than three decades ago, extensive work has revolutionized our perception of its role in signalling networks. Not only protein ubiquitination serves as a main mechanism for protein degradation, emerging evidence has revealed that different types of ubiquitin chains can induce a variety of non-proteolytic functions and can dramatically alter the biological activities of a target protein. On top of that, ubiquitination is frequently observed to interplay with other PTMs such as phosphorylation or sumoylation to coordinate regulation of signalling processes in intricate manners. Such complexity arising from interconnected PTM networks poses enormous challenges for the systems level analysis of signalling processes. Mathematical modelling is emerging as a valuable tool to provide insight into their dynamic behaviour that would otherwise not be possible. Mathematical models help combine the mechanistic, molecular knowledge with rigorous analysis of the complex output dynamics of the PTM networks.
The expanding roles of ubiquitylation and phosphorylation in cell signalling, to large extent, have been uncovered thanks to recent advances in proteomics technologies which have enabled new ways for in-depth, unbiased and quantitative analysis of different PTMs on a global scale[106–110]. Techniques such as stable isotope labelling with amino acids in cell culture (SILAC) and label-free based mass spectrometry can quantify changes in expression of thousands of phosphoproteins and tens of thousands phosphorylation events in a single experiment and have become well established[106, 111]. Although proteome-wide analysis of endogenous ubiquitination has been more challenging, recent developments on antibodies-based enrichment methods demonstrate the feasibilities of similar large-scale, quantitative and site-specific investigations of this PTM[112]. Moreover, novel methods that are aimed at identifying proteins comodified by both phosphorylation and ubiquitination have revealed exciting global details of the cross-regulation between these two PTMs[113]. A major limitation with current mass spectrometry based methods however is the inability to distinguish among modifications by ubiquitination, NEDD8 or ISG15, due to an identical di-Gly remnant generated by trypsin proteolysis of the modified proteins[112]. Nevertheless, it is likely that with the observed fast pace of technological advance, sophisticated methods capable of resolving at even higher quantitative resolution the extent of PTMs crosstalk and their distinct dynamics under different cellular perturbations are within close reach. These data will undoubtedly be valuable inputs to the construction of large-scale, next-level quantitative models. A global, data-driven modelling-based understanding of PTMs networks and the ability to simulate their behaviour and form testable predictions will open countless possibilities that can drive the frontiers of both biological and medical research.
Abbreviations
DUB:

De-ubiquitinating enzyme
EGF:

Epidermal growth factor
EGFR:

Epidermal growth factor receptor
ERK:

Extracellular signal-regulated kinase
Cbl:

Casitas b-lineage lymphoma
RTK:

Receptor tyrosine kinase
EPS15:

Epidermal growth factor receptor substrate 15
MVB:

Multivesicular body
UIM:

Ubiquitin-interacting motif
HRS:

Hepatocyte growth factor-regulated tyrosine kinase substrate
HECT:

Homologous to the E6-AP carboxyl terminus
STAMP:

Signal transducing adaptor molecule
STAMBP:

STAM binding protein
USP8:

Ubiquitin specific peptidase 8
Rab5:

Ras-related protein Rab5
GEF:

Guanine nucleotide exchange factor
GA:

Benzoquinone ansamycin Geldanamycin
JNK:

c-Jun N-terminal kinase
MEKK1:

MEK kinase 1
ITCH Itchy:

E3 ubiquitin protein ligase
NEDD4:

Neural precursor cell expressed developmentally down-regulated protein 4
Rpn4:

Regulatory particle non-ATPase
RING1B:

Really interesting new gene 1 protein.
Declarations
Acknowledgements
This work was supported by Science Foundation Ireland under Grant No. 06/CE/B1129 and the European Union Grant PRIMES No. FP7-HEALTH-2011-278568. We thank Alexander von Kriegsheim for critical reading of the manuscript.
Authors' Affiliations
(1)
Systems Biology Ireland, University College Dublin, Belfield, Ireland
(2)
Conway Institute, University College Dublin, Belfield, Ireland
(3)
School of Medicine and Medical Science, University College Dublin, Belfield, Ireland
Copyright
© Nguyen et al.; licensee BioMed Central Ltd. 2013
This article is published under license to BioMed Central Ltd. This is an Open Access article distributed under the terms of the Creative Commons Attribution License (http://creativecommons.org/licenses/by/2.0), which permits unrestricted use, distribution, and reproduction in any medium, provided the original work is properly cited.