Hypoxia-inducible factor (HIF) network: insights from mathematical models
Cell Communication and Signaling
2013
11:42
Received: 27 February 2013
Accepted: 4 June 2013
Published: 10 June 2013
Abstract
Oxygen is a crucial molecule for cellular function. When oxygen demand exceeds supply, the oxygen sensing pathway centred on the hypoxia inducible factor (HIF) is switched on and promotes adaptation to hypoxia by up-regulating genes involved in angiogenesis, erythropoiesis and glycolysis. The regulation of HIF is tightly modulated through intricate regulatory mechanisms. Notably, its protein stability is controlled by the oxygen sensing prolyl hydroxylase domain (PHD) enzymes and its transcriptional activity is controlled by the asparaginyl hydroxylase FIH (factor inhibiting HIF-1).
To probe the complexity of hypoxia-induced HIF signalling, efforts in mathematical modelling of the pathway have been underway for around a decade. In this paper, we review the existing mathematical models developed to describe and explain specific behaviours of the HIF pathway and how they have contributed new insights into our understanding of the network. Topics for modelling included the switch-like response to decreased oxygen gradient, the role of micro environmental factors, the regulation by FIH and the temporal dynamics of the HIF response. We will also discuss the technical aspects, extent and limitations of these models. Recently, HIF pathway has been implicated in other disease contexts such as hypoxic inflammation and cancer through crosstalking with pathways like NFκ B and mTOR. We will examine how future mathematical modelling and simulation of interlinked networks can aid in understanding HIF behaviour in complex pathophysiological situations. Ultimately this would allow the identification of new pharmacological targets in different disease settings.
Keywords
HypoxiaHIFFIHPHDMathematical model
Introduction
Hypoxia is the cellular stress which occurs when oxygen demand exceeds supply. As a homeostatic response to this challenge, several classes of genes are up-regulated, which encode for proteins involved in angiogenesis, erythropoiesis and glycolysis, such as vascular endothelial growth factor, erythropoietin, most of the glycolytic enzymes and glucose transporters[1]. The possibility that higher organisms have direct oxygen sensing mechanisms, like those known for yeast and bacteria, has always interested biologists. A major advance in the knowledge of mammalian oxygen regulation came from studies on the hypoxic induction of erythropoietin (EPO). This glycoprotein regulates mammalian erythrocyte production and, as a result, oxygen delivery to tissues. EPO mRNA levels are several hundred folds induced in rodent liver and kidney in response to hypoxia and this induction was found to be effected by a nuclear factor induced by hypoxia, named hypoxia inducible factor (HIF)[2, 3]. Later it was found that HIF is a dimer composed of an oxygen-regulated alpha subunit (HIF-1α, -2α and -3α) and a constitutively expressed nuclear beta subunit (HIF-1β, -2β and -3β)[4, 5]. Although all the subunits are involved in generating the diversity of the transcriptional response to hypoxia[6], the core components are the 1α and 1β subunits.
In normoxia, the HIF-α protein levels are low due to constant ubiquitination-dependent degradation via the Von Hippel-Landau (VHL) E3 ligase protein[
7
], which recognises proline hydroxylated (Pro-OH) HIFα[
8
–
10
] on two independent sites: a carboxyl terminal and an amino terminal oxygen-dependent degradation domains (CODDD and NODDD, respectively)[
11
,
12
]. These hydroxylation reactions are catalysed by oxygen-sensitive prolyl hydroxylases (PHD)[
13
,
14
], establishing hydroxylation as a novel functional post-translational modification in signalling pathways[
11
]. Another level of control lies with the oxygen-sensitive asparaginyl hydroxylase FIH (factor inhibiting HIF), which hydroxylates the HIF alpha-protein and inhibits subsequent recruitment of the transcriptional co-activators p300 and CBP[
15
–
18
], thereby inhibiting the HIF transcriptional activity. In hypoxia, when less oxygen is available for PHD/FIH-mediated hydroxylation, HIF-α protein accumulates, translocates into the nucleus, associates with HIF-β and the co-activators p300/CBP to induce gene expression by binding to the conserved [A/G]CGTG hypoxia-responsive element (HRE)[
1
], including PHD2[
19
] and PHD3[
20
], establishing a negative feedback loop. A historical timeline of the major experimental findings together with the core components of the HIF network are shown in Figure
1
. The ancient HIF response is conserved throughout the metazoans[
21
] and is an important physiological adaptation mechanism to conditions of low cellular oxygen, such as high altitude, ischemic stroke or myocardial infarction[
1
,
11
]. However, it can be hijacked in patho-physiological conditions such as cancer, where it allows for clonal selection of cancerous cells adapted to the hypoxic tumour microenvironment[
1
]. HIF-α is thus a promising anticancer drug target, and several compounds targeting HIF translation, degradation or transcriptional activity have already been approved[
22
].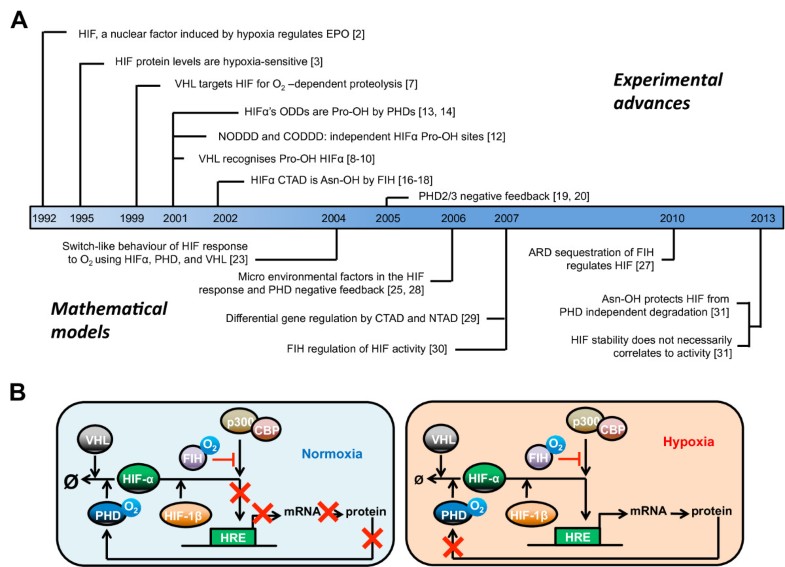 In a linear biochemical cascade, effects of perturbations such as pharmacological inhibition of cascade components can be intuitively predicted and interpreted. However, cellular responses often appear to be mediated through highly interconnected and complex networks forming from multiple pathways crosstalk and feedback regulation. Such similar level of complexity featured by the hypoxia-induced HIF signalling network has motivated studies in which mathematical models are used to gain understanding of the emergent network behaviours. The focus of this review is to bring together the modelling efforts and discuss the models developed so far for the HIF signalling pathway. These models, implemented to run as computer programs, can generate simulations which provides a powerful tool to analyse and understand the HIF network behaviour in complex physiological situations, including inflammation and cancer. Moreover, model-based analysis would allow the identification of new pharmacological targets in different disease settings. We hope a comprehensive review of the available models of the HIF pathway will help lay a foundation for the development of more complete HIF models, as well as of future large-scale models integrating HIF and other pathways.
Mathematical models of the HIF pathway
Conclusions
Most of the modelling studies on the HIF pathway have been concerned with the core components of the pathway: HIF, PHD, FIH and VHL, which seem to suffice in providing the system with the characteristic network features: switch-like behaviour and attenuation under prolonged hypoxia. This supports the view that essential behaviour of biological systems is often encoded within small "core" subsystems, while additional complexity may serve to fine tune this behaviour. The additional complexity can be encoded by changes in the molecular microenvironment[25, 28, 38, 40–42] and brought about by feedback loops[25, 28, 30, 31, 50].
While all models are supposedly wrong, some are useful[89]. This apparent limitation, though, has a positive implication: failure of a model to reproduce experimental data often indicate the presence of additional elements and prompt further investigations into the regulatory mechanisms of that same system. Mathematical modelling is therefore a valuable tool in aiding experimental biologists to better understand the HIF pathway by providing explanations for complex and sometimes counter-intuitive behaviours and offering predictions on missing protein partners or unknown functional relationships between components. Furthermore, modelling of the HIF response in more complex biological settings such as cancer and inflammation, where HIF is known to interact with major signalling pathways activated in these contexts, will facilitate biologists in formulating new hypothesis to explain complex behaviours.
Abbreviations
2OG:

2-oxoglutarate (α-ketoglutarate)
ARD:

Ankyrin repeat domain
Asn:

Asparagine
BNIP3:

BCL2/adenovirus E1B 19 kD interacting protein 3
CBP:

CREB-binding protein
C-TAD:

Carboxyl-terminal activation domain
CODDD:

Carboxyl-terminal oxygen dependent degradation domain
DMOG:

Dimethyloxalylglycine
HIF:

Hypoxia inducible factor
HRE:

Hypoxia-responsive element
JNJ1935:

JNJ-42041935
MAPK:

Mitogen activated protein kinase
MIM:

Molecular interactions map
mTOR:

Mammalian Target of rapamycin
NFκB:

Nuclear factor kappa B
N-TAD:

Amino-terminal activation domain
NODDD:

Amino-terminal oxygen dependent degradation domain
ODE:

Ordinary differential equations
OH:

Hydroxyl
PHD:

Prolyl Hydroxylase Domain proteins
PI3K:

Phosphatidylinositol-3-kinase
Pro:

Proline
VHL:

Von Hippel–Lindau protein.
Declarations
Acknowledgements
This work was supported by Science Foundation Ireland (Grant No. 06/CE/B1129).
Authors' Affiliations
(1)
Systems Biology Ireland, University College Dublin, Ireland
Copyright
© Cavadas et al.; licensee BioMed Central Ltd. 2013
This article is published under license to BioMed Central Ltd. This is an Open Access article distributed under the terms of the Creative Commons Attribution License (http://creativecommons.org/licenses/by/2.0), which permits unrestricted use, distribution, and reproduction in any medium, provided the original work is properly cited.