The role of JAK-STAT signaling pathway and its regulators in the fate of T helper cells
Cell Communication and Signaling
2017
15:23
Received: 20 April 2017
Accepted: 2 June 2017
Published: 21 June 2017
Abstract
The Janus kinase (JAK)-signal transducer and activator of transcription (STAT) pathway plays critical roles in orchestrating of immune system, especially cytokine receptors and they can modulate the polarization of T helper cells. This pathway is regulated by an array of regulator proteins, including Suppressors of Cytokine Signaling (SOCS), Protein Inhibitors of Activated STATs (PIAS) and Protein Tyrosine Phosphatases (PTPs) determining the initiation, duration and termination of the signaling cascades. Dysregulation of the JAK-STAT pathway in T helper cells may result in various immune disorders. In this review, we represent how the JAK-STAT pathway is generally regulated and then in Th cell subsets in more detail. Finally, we introduce novel targeted strategies as promising therapeutic approaches in the treatment of immune disorders. Studies are ongoing for identifying the other regulators of the JAK-STAT pathway and designing innovative therapeutic strategies. Therefore, further investigation is needed.
Background
There is a reciprocal interaction between external actions and internal reactions that enables a cell to live. Each receptor like a sentinel senses stimuli and starts to transfer corps of signals to the castle of the nucleus in order to provoke vital responses. The result of this process may be proliferation, differentiation (polarization), activation/inhibition and survival/apoptosis. The
Janus kinase-signal transducer and activator of transcription (JAK-STAT)
pathway plays a major role in transferring of signals from cell-membrane receptors to the nucleus [
1
]. The JAK-STAT pathway is essential for a wide range of cytokines and growth factors, leading to critical cellular events, such as hematopoiesis, lactation and development of the immune system and mammary glands [
2
–
4
]. Cytokines are one of the major players of myeloid and lymphoid lineages which their receptors utilize this pathway [
5
]. A main subgroup of cytokines, ranging from over 60 factors, binds to receptors termed type I and type II cytokine receptors. These cytokines are inevitable for initiating and orchestrating of innate and adaptive immunities [
6
,
7
].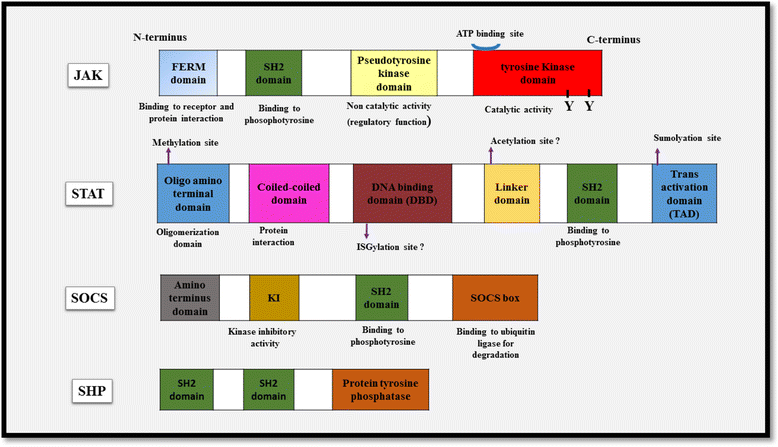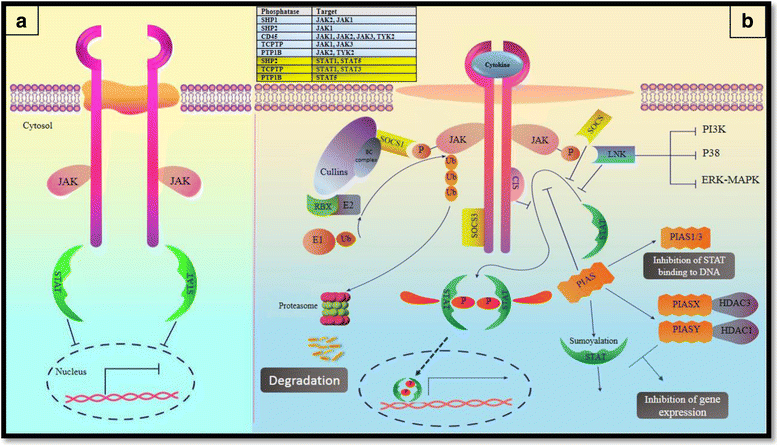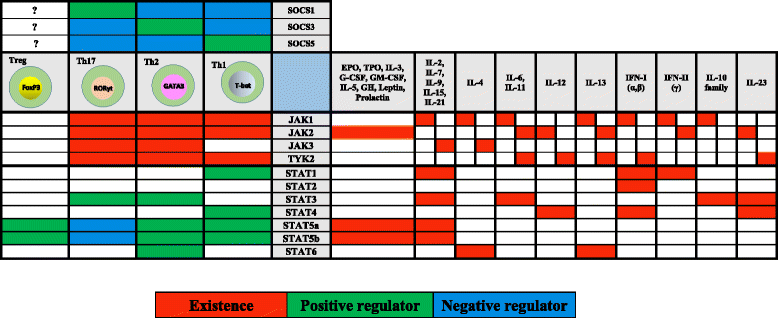 JAKs are kinds of tyrosine kinases that are bound to the cytoplasmic regions of type I and II cytokine receptors. Multimerization of receptors occurs when ligands bind to their receptors. Subunits of some receptor are expressed as homodimers, e.g. erythropoietin and growth hormone; while other receptor subunits are expressed as heteromultimers, such as interferons (IFN) and Interleukins (IL) [8]. Activation of the receptors that are associated with JAKs is critical to initiate the JAK transphosphorylation and subsequent recruitment of one or more STATs to be phosphorylated [9]. Eventually, dimerized STATs enter to the nucleus and regulate transcription of myriad target genes [8]. In this review, we aim to introduce the JAK-STAT pathway and its regulator proteins and elucidate the role of them in the differentiation of T helper(Th) cell subsets. Eventually, novel and approved therapeutic strategies are discussed in order to target the JAK-STAT pathway and its regulators in several immune disorders.
Conclusions
JAK-STAT pathway has critical roles in the regulation of immune system, especially the fate of T helper cells. Th cells play a central role in direction of the immune responses. JAKs are associated with cytokine receptors, which are activated upon stimulation and they phosphorylate STAT proteins, enabling them to be transported to the nucleus. Several regulators, such as PTPs, SOCS and PIAS families have been described to modulate the function of the JAK-STAT pathway. Since any dysregulation in the JAK-STAT pathway and their regulators may lead to pathological consequences; therefore, signaling pathways are potential therapeutic approaches which targeting of them may lead to develop new strategies in the treatment of different diseases, particularly T cell mediated diseases. Targeting strategies may result in numerous benefits, for instance side effect and unwanted reactions may be diminished and bystander pathways remain intact. We hope that the severity and burden of the diseases can be alleviated and decreased by the development of new drugs and precise targeting of these proteins in pathological circumstances. Studies and experiments on the regulation of the JAK-STAT pathway are ongoing and other aspects of their functions need further elucidation.
Abbreviations
APS:

Adaptor protein with PH and SH2 domain
CIS:

Cytokine-inducible SH2 domain protein
EAE:

Experimental Autoimmune Encephalomyelitis
EGFR:

Epidermal Growth Factor Receptor
HDACs:

Histone deacetylases
HNSCC:

Head and Neck Squamous Cell Carcinoma
ISGylation:

Interferon Stimulated Gene 15
JAK:

Janus kinase
NET:

Neutrophil Extracellular Traps
PIAS:

Protein Inhibitors of Activated STATs
PTK:

Protein Tyrosine Kinases
PTP1B:

Protein tyrosine phosphatase 1B
PTPs:

Protein tyrosine phosphatases
RORγt:

Retinoic acid receptor-related Orphan Receptor γ
SAP domain:

Scaffold attachment factor A/B, Acinus, PIAS
SH2 domain:

Src homology 2 domain
SH2B:

Proline-rich, PH and SH2 domain-containing signaling mediator
SOCS:

Suppressors of Cytokine Signaling
STAT:

Signal Transducer and Activator of Transcription
StIP:

STAT Interacting Protein
SUMO:

Small Ubiquitin-related Modifier
TAD:

Trans-Activation Domain
TCPTP:

T-cell Protein Tyrosine Phosphatase
Th cell:

T helper cell
Declarations
Acknowledgments
The authors thank ENT and Head and Neck Research Center and Department of Iran University of Medical Sciences for their kind support. We would also kindly appreciate John J. O'shea for his worthwhile comments.
Availability of data and materials
Not applicable.
Authors' contributions
The idea of the review was coined by FS and he wrote the manuscript. FS and MK designed the figures and table. MK depicted the figures. HA managed the strategy of the search. MM and GS conceived the content of the review and made final corrections and amendments. All authors read and approved the final manuscript under the supervision of MB before the submission.
Authors' information
Not applicable.
Competing interests
The authors declare that they have no competing interests.
Consent for publication
Not applicable.
Ethics approval and consent to participate
Not applicable.
Publisher's Note
Springer Nature remains neutral with regard to jurisdictional claims in published maps and institutional affiliations.
Open AccessThis article is distributed under the terms of the Creative Commons Attribution 4.0 International License (http://creativecommons.org/licenses/by/4.0/), which permits unrestricted use, distribution, and reproduction in any medium, provided you give appropriate credit to the original author(s) and the source, provide a link to the Creative Commons license, and indicate if changes were made. The Creative Commons Public Domain Dedication waiver (http://creativecommons.org/publicdomain/zero/1.0/) applies to the data made available in this article, unless otherwise stated.
Authors' Affiliations
(1)
ENT and Head and Neck Research Center and Department, Hazrat Rasoul Akram Hospital, Iran University of Medical Sciences, Tehran, Iran
(2)
Department of immunology, school of medicine, Iran University of Medical Sciences, Tehran, Iran
(3)
Department of Medical Laboratory Science, Faculty of Allied Medical Sciences, Iran University of Medical Sciences, Tehran, Iran