The roles of ASK family proteins in stress responses and diseases
Cell Communication and Signaling
2009
7:9
Received: 11 March 2009
Accepted: 24 April 2009
Published: 24 April 2009
Abstract
Apoptosis signal-regulating kinase 1 (ASK1) is a member of the mitogen-activated protein kinase kinase kinase family, which activates c-Jun N-terminal kinase and p38 in response to a diverse array of stresses such as oxidative stress, endoplasmic reticulum stress and calcium influx. In the past decade, various regulatory mechanisms of ASK1 have been elucidated, including its oxidative stress-dependent activation. Recently, it has emerged that ASK family proteins play key roles in cancer, cardiovascular diseases and neurodegenerative diseases. In this review, we summarize the recent findings on ASK family proteins and their implications in various diseases.
Keywords
Amyotrophic Lateral SclerosisEndoplasmic Reticulum StressAmyotrophic Lateral Sclerosis PatientOlmesartanSOD1 Mutant
Introduction
All living organisms are exposed to numerous physicochemical stressors during their lifetime, and appropriate responses to stress at the cellular level are essential for the maintenance of homeostasis. The mitogen-activated protein kinase (MAPK) cascades are thought to be crucial among the major signaling pathways that regulate cellular stress responses. However, the mechanisms by which cells sense stresses and convert information about them into cellular signals are poorly understood. The MAPK pathway consists of a cascade of three protein kinases (Figure
1
). These protein kinases are sequentially activated, such that the MAPK kinase kinase (MAPKKK) phosphorylates and activates the MAPK kinase (MAPKK), which in turn phosphorylates and activates the MAPK. MAPKs control a wide variety of cellular functions, including proliferation, differentiation, migration and apoptosis. Considering that some MAPKKKs are capable of activating multiple MAPK modules or activating the same modules for different durations, the diversity of the MAPKKKs may have evolved to allow cells to integrate specific MAPK pathways [
1
]. On the other hand, it has been revealed that a number of diseases, such as cancer, cardiovascular diseases and neurodegenerative diseases, are intimately related to stress response mechanisms mediated by MAPK cascades. In this review, we focus on the regulatory mechanisms of ASK family proteins and their relations to human diseases.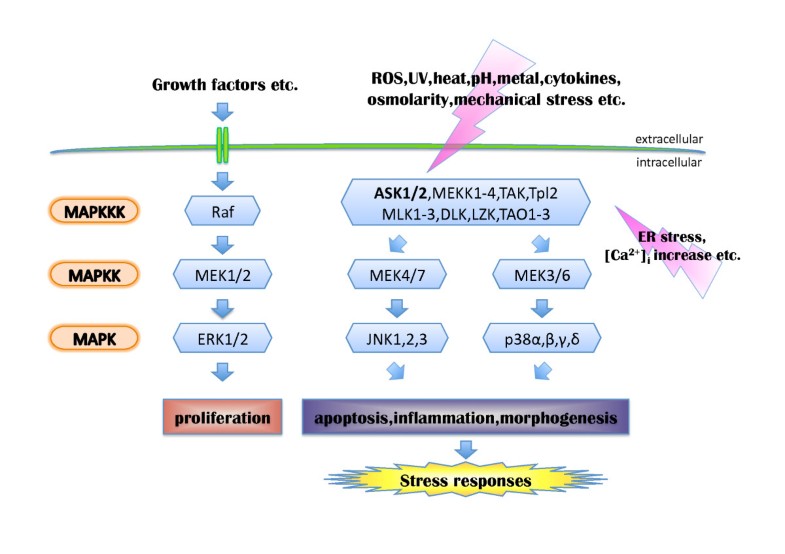 Conclusion
ASK1 is a member of the MAPKKK family in a dynamic protein kinase network. ASK1 plays significant roles in diverse stress responses. ASK1 also plays key roles in multiple diseases, including cancer, cardiovascular diseases and neurodegenerative diseases. ASK2 is also a unique protein kinase that functions by forming a heteromeric complex with ASK1 but plays an opposite role to ASK1 in tumorigenesis. It is important to identify the similarities and differences among ASK family proteins, including their activation mechanisms, in order to understand the specific roles of the individual proteins. Considering the involvement of ASK family proteins in critical diseases at the present time, further studies on the detailed regulatory mechanisms of the ASK family are crucial for the development of novel therapeutic strategies.
Declarations
Acknowledgements
We thank Mr. Shota Yamauchi, Mr. Jun-ichi Maruyama and all the other members of the Laboratory of Cell Signaling for meaningful discussions.
Authors' Affiliations
(1)
Laboratory of Cell Signaling, Graduate School of Pharmaceutical Sciences, The University of Tokyo, Tokyo, Japan
Copyright
© Hattori et al; licensee BioMed Central Ltd. 2009
This article is published under license to BioMed Central Ltd. This is an Open Access article distributed under the terms of the Creative Commons Attribution License (http://creativecommons.org/licenses/by/2.0), which permits unrestricted use, distribution, and reproduction in any medium, provided the original work is properly cited.