Regulation of cellular proliferation, differentiation and cell death by activated Raf
Cell Communication and Signaling
2009
7:8
Received: 20 February 2009
Accepted: 21 April 2009
Published: 21 April 2009
Abstract
The protein kinases Raf-1, A-Raf and B-Raf connect receptor stimulation with intracellular signaling pathways and function as a central intermediate in many signaling pathways. Gain-of-function experiments shed light on the pleiotropic biological activities of these enzymes. Expression experiments involving constitutively active Raf revealed the essential functions of Raf in controlling proliferation, differentiation and cell death in a cell-type specific manner.
Keywords
HT22 CellHuman Breast Epithelial CellHormone Binding DomainEstrogen Receptor DomainKinase Kinase Inhibitor PD98059
Introduction
All three Raf isoenzymes are cytosolic serine/threonine protein kinases that exhibit a high degree of sequence similarity. The enzymes contain three domains termed CR1, CR2 and CR3. The N-terminal CR1 contains a Ras-binding subdomain and a cysteine-rich subdomain, both required to bind to activated Ras (Ras-GTP) at the cell membrane. CR2 is rich in serine and threonine residues and negatively regulates the biological activity of the catalytic domain. CR3 contains the catalytic protein kinase domain (figure
1
).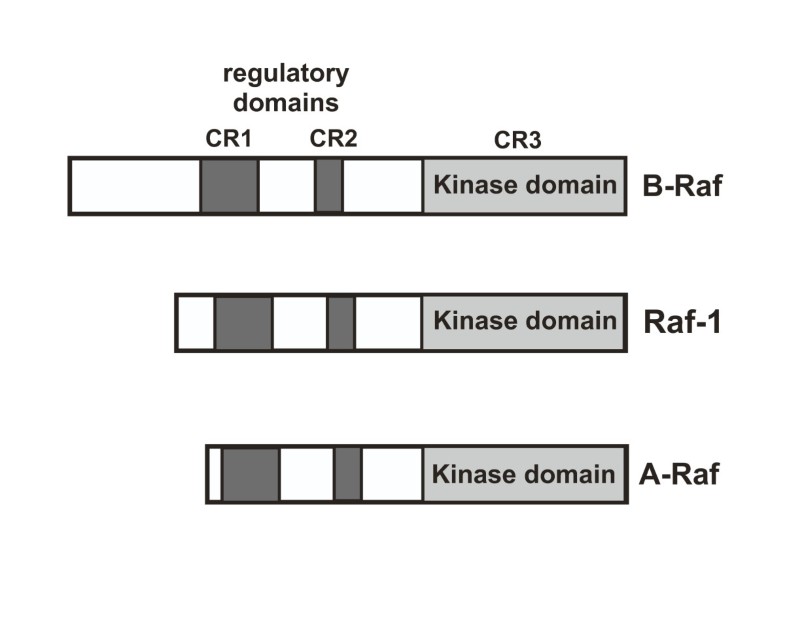 Raf connects cellular stimulation with intracellular signaling pathways. Raf translocates to the plasma membrane as a result of receptor tyrosine kinase stimulation that leads to a subsequent activation of Ras. Following activation, Raf phosphorylates and activates mitogen-activated protein kinase (MAP) kinase (MEK) which in turn phosphorylates and activates the MAP kinases extracellular signal-regulated protein kinases ERK1 and ERK2 [1]. Raf functions therefore as a vital link between activated Ras and ERK. The activated protein kinases ERK1/2 are able to translocate into the nucleus and change the gene expression pattern via phosphorylation of gene regulatory proteins. Thus, activation of Raf is essential for activating the Raf/MEK/ERK signaling pathway and many functions attributed to Raf activation are executed by the subsequent activation of MEK and ERK. A microarray analysis confirmed that the transcriptional response to Raf activation almost completely depends on MEK activation [2]. In line with this, MEK is the only generally acknowledged substrate for Raf [1, 3].
Conclusion
Results obtained with constitutively active Raf mutants has been questioned, since the lack of the regulatory domains in the Raf mutants may compromise the substrate specificity and the dynamic regulation of activity [9]. Nevertheless, the many data obtained using these mutants have improved our knowledge of the functions of Raf in growth control, apoptosis and differentiation.
Abbreviations
ER:

estrogen receptor
ERK:

extracellular signal-regulated protein kinase
4OHT:

4-hydroxytamoxifen.
Declarations
Acknowledgements
We thank Martin McMahon, UCSF, for providing ΔRaf:ER constructs and Libby Guethlein for critical reading of the manuscript. The research of the laboratory concerning intracellular signaling cascades underlying neuronal cell death and survival is supported by the Deutsche Forschungsgemeinschaft (grant SFB 530, C14).
Authors' Affiliations
(1)
Department of Medical Biochemistry and Molecular Biology, University of Saarland Medical Center, Homburg, Germany
Copyright
© Thiel et al; licensee BioMed Central Ltd. 2009
This article is published under license to BioMed Central Ltd. This is an Open Access article distributed under the terms of the Creative Commons Attribution License (http://creativecommons.org/licenses/by/2.0), which permits unrestricted use, distribution, and reproduction in any medium, provided the original work is properly cited.