Signaling pathway cross talk in Alzheimer's disease
Cell Communication and Signaling
2014
12:23
Received: 30 January 2014
Accepted: 11 March 2014
Published: 28 March 2014
Abstract
Numerous studies suggest energy failure and accumulative intracellular waste play a causal role in the pathogenesis of several neurodegenerative disorders and Alzheimer's disease (AD) in particular. AD is characterized by extracellular amyloid deposits, intracellular neurofibrillary tangles, cholinergic deficits, synaptic loss, inflammation and extensive oxidative stress. These pathobiological changes are accompanied by significant behavioral, motor, and cognitive impairment leading to accelerated mortality. Currently, the potential role of several metabolic pathways associated with AD, including Wnt signaling, 5' adenosine monophosphate-activated protein kinase (AMPK), mammalian target of rapamycin (mTOR), Sirtuin 1 (Sirt1, silent mating-type information regulator 2 homolog 1), and peroxisome proliferator-activated receptor gamma co-activator 1-α (PGC-1α) have widened, with recent discoveries that they are able to modulate several pathological events in AD. These include reduction of amyloid-β aggregation and inflammation, regulation of mitochondrial dynamics, and increased availability of neuronal energy. This review aims to highlight the involvement of these new set of signaling pathways, which we have collectively termed "anti-ageing pathways", for their potentiality in multi-target therapies against AD where cellular metabolic processes are severely impaired.
Keywords
NeurodegenerationCognitive declineNeuronal network failureReactive oxygen speciesAlzheimer's disease
Lay abstract
Alzheimer's disease (AD) is characterized by the progressive loss of cholinergic neurons leading to dementia. Deciphering the molecular basis underlying this multifactorial neurodegenerative disorder remains a significant challenge. Increased oxidative stress and misfolded protein formations are the basis of AD. Recently, the several new cellular signaling pathways have been implicated in the pathobiology of AD. These include Wnt signaling, 5' adenosine monophosphate-activated protein kinase (AMPK), mammalian target of rapamycin (mTOR), Sirtuin 1 (Sirt1, silent mating-type information regulator 2 homolog 1), and peroxisome proliferator-activated receptor gamma co-activator 1-α (PGC-1α). These new signaling pathways may provide new therapeutic targets to slow down or prevent the development of AD.
Introduction
Alzheimer's disease (AD) is a debilitating neurodegenerative disorder characterized by the progressive loss of cholinergic neurons, leading to the onset of severe behavioral, motor and cognitive impairments. In order to establish the criteria that would accurately define AD, patients with senile dementia were traditionally excluded since, despite its similarity, senile dementia was generally considered an age-associated phenomenon, and not a true disease. However, since extracellular amyloid β (Aβ) plaques and intracellular neurofibrillary tangles (NFTs) containing hyper-phosphorylated tau, are frequently present in the brain of patients with senile dementia, investigators eventually expanded the definition of AD to also include those with senile dementia, plaques and tangles (Figure
1
) [
1
].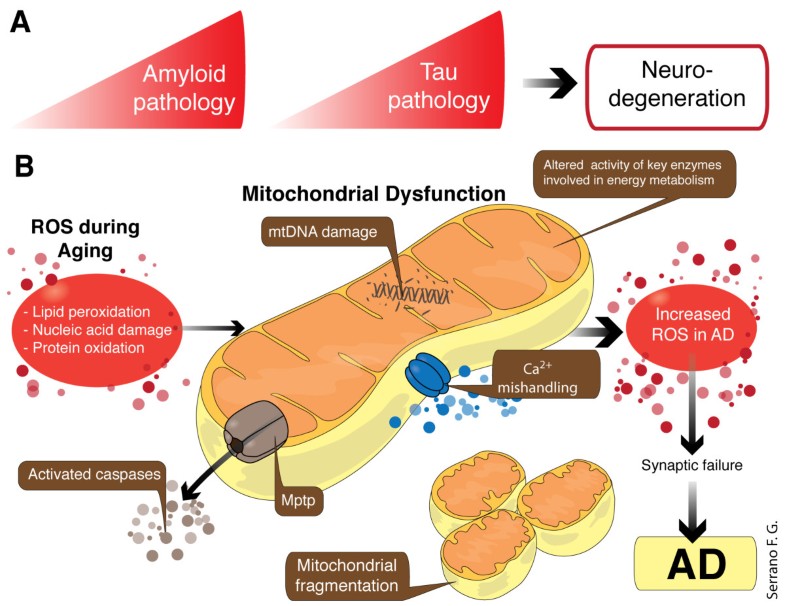 Energy demands and calcium fluctuation within neuronal synapses are the prerequisite of neuronal communication; to meet this process, the mitochondria are enriched in synapses for site-directed energy provision and calcium homeostasis. Reduced energy metabolism, particularly related to low levels of glucose, in the diseased brain is one of the best documented metabolic abnormalities in AD. In fact, the decline in baseline glucose metabolism is viewed as a sensitive measure, useful for monitoring change in cognition and functionality in AD. Deficits in mitochondrial function and increased Aβ accumulation in synapses lead to reduced synaptic activity and consequent neuronal damage. Such synaptic alteration and mitochondrial dysfunction have been observed in many neurodegenerative disorders including AD. The normal physiological function of the mitochondria is dependent upon their intact structure to maintain the electrochemical gradient. Structurally damaged mitochondria, as evidenced by partial or near complete loss of the internal structure and cristae, are abundant and represent a prominent feature in dystrophic neurons in postmortem AD brains [2]. On the other hand, calcium (Ca2+) mishandling has been reported in peripheral cells isolated from AD patients, with the endoplasmic reticulum (ER) developing calcium overload due to reduced calcium uptake (Figure 1) [3].
Mitochondria are highly metabolic organelles that combine nutrient sensing and growth signaling pathways to regulate health span and longevity by maintaining energy production and Ca2+ homeostasis, and reducing apoptosis. Genetic approaches have identified several signaling pathways which represent critical modifiers of mitochondrial function. These pathways have been shown to increase the transcription of important mitochondrial genes following exposure to oxidative and inflammatory insult within the cell. Among these signaling pathways are the Wnt signal transduction pathways, 5' adenosine monophosphate-activated protein kinase (AMPK), mechanistic target of rapamycin (mTOR) complexes, and activation of the Sirtuin 1 (silent mating-type information regulator 2 homolog 1)/peroxisome proliferator-activated receptor gamma co-activator 1-α (Sirt1/PGC-1α) axis.
In this review, we will focus on already published evidence that allows, based in our own experience, to propose a potential connection between several mechanisms already described as neurodegenerative/AD-related and how these signaling pathways will contribute to AD. We consider that a greater understanding of the molecular basis of these pathways and how they interact within the cell will foster efforts to slow down or attenuate metabolic deficits that are observed in AD.
Conclusion
As the world's ageing population continues to increase and age appears to be a prominent risk factor for most neurodegenerative diseases, novel therapeutic regimens which delay the onset of age-related disorders are highly desirable. There are multiple connections between neurodegenerative diseases, such as increased oxidative stress, decreased autophagy, and formation of misfolded proteins, impaired neuronal metabolism and mitochondrial dysfunction. Central to the maintenance of cellular function, and particularly synaptic structure and function, and mitochondrial integrity are the proto-oncogene Wnt, AMPK, mTOR, Sirt1 and PGC-1α. Wnt signaling activation (Figure 2), which protects neurons against neurotoxic damage and, in this sense, represents a new perspective regarding the underlying pathobiology of AD. Furthermore, strong evidence suggests that AMPK might be key master controller of important metabolic pathways and is closely aligned with Sirt1 and mTOR activities. Moreover, the crosstalk between these main pathways, as well as, with secondary cellular mechanisms are far to be addressed, but the currently available evidence suggest a more than plausible connection between the pathways herein presented. Of course important questions should be answered in order to fulfill the inconsistencies of some observations. Mainly, that several research groups have conducted some clinical trials using different kinds of drugs, such as PPARγ agonists (TZD) or SIRT1 agonists (Res), with disappointing results [124]; however, according to our experience, these sort of negative results are not due to the lack of action of the drug, but probably because of the inner complexity of the disease, and the lack of understanding between live animal models and human physiological response [125–131]. Moreover, researchers still avoid considering the response of adjacent tissues as a result of systemic AD therapies; what if the systemic administration of some drug induces an alteration of the blood–brain barrier health, limiting the further benefits of the drug within the brain parenchyma? Today, AD research is usually focused to unveil limited areas of the disease with unsuccessful results when challenged in real patients, we believe that through renewed insight on the cellular and molecular mechanisms responsible for cellular and mitochondrial abnormalities reported in AD, efficient and safe translation of these signaling pathways into novel therapeutic alternatives against neuronal degeneration may shorten the gap between basic science and clinical research. The fast and efficient translation of innovative therapeutics into clinical candidates, and eventually approved therapeutics will improve outcomes for AD patients.
Abbreviations
AMPK:

5' adenosine monophosphate-activated protein kinase
mTOR:

Mammalian target of rapamycin
Sirt1:

Silent mating-type information regulator 2 homolog 1
PGC1:

Peroxisome proliferator-activated receptor gamma coactivator 1-alpha
AD:

Alzheimer's disease
Aβ:

Amyloid beta
NFT:

Neurofibrillary tangles
Fz:

Frizzled
APP:

Amyloid precursor protein
DSH:

Disheveled
PKC:

Protein kinase C
LRP6:

Low density lipoprotein-related receptor protein
apoE4:

Allele 4 of apo-lipoprotein E
PPAR:

Peroxisome proliferator-activated receptor
Aβo:

Aβ oligomers
AChE:

Acetylcholinesterase
THH:

Tetrahydrohyperforin
AChR:

Acetylcholine receptors
C. elegans:

Caenorhabditis elegans
STK11:

Serine/threonine kinase 11
CaMKK:

Ca2+/CaM-dependent protein kinase kinase β
PPase:

Phosphatases
FOXO3:

Forkhead box O3
LTP:

Long-term potentiation
BACE1:

β-secretase
BAG2:

BCL2-associated athanogene 2
LAMP1:

Lysosomal-associated membrane protein 1
GHB:

γ-Hydroxybutyric acid
IDE:

Insulin-degrading enzyme
TPM:

Topiramate
LEV:

Levetiracetam
NAD+:

Nicotinamide adenine dinucleotide
GDH:

Glutamate dehydrogenase
DLP1:

Dynamin-like protein 1 protein
OPA1:

Optic atrophy protein 1
NRF:

Nuclear respiratory factor
4-HNE:

4-hydroxynonenal
PHF:

Paired helical filaments
TFAM:

Mitochondrial transcription factor A
PARPs:

Poly(ADP-ribose) polymerases
NO:

Nitric oxide
SOD:

Superoxide dismutase.
Declarations
Acknowledgments
This work was supported by grants PFB 12/2007 from the Basal Centre for Excellence in Science and Technology, FONDECYT 1120156, MIFAB Foundation, Fundacion Ciencia y Vida to NCI; a Pre-doctoral Fellowship from CONYCIT fellowship to JAR; and FONDECYT 11130033 to JMZ. NB is a recipient of the Alzheimer's Australia and NHMRC Early Career Postdoctoral Research Fellowship at the University of New South Wales, Sydney, Australia.
Authors' Affiliations
(1)
Centro de Envejecimiento y Regeneración (CARE); Departamento de Biología Celular y Molecular, Facultad de Ciencias Biológicas, Pontificia Universidad Católica de Chile, Santiago, Chile
(2)
Departamento de Biología, Facultad de Ciencias, Universidad de Tarapacá, Arica, Chile
(3)
Center for Healthy Brain Ageing, School of Psychiatry, Faculty of Medicine, University of New South Wales, Sydney, Australia
Copyright
© Godoy et al.; licensee BioMed Central Ltd. 2014
This article is published under license to BioMed Central Ltd. This is an Open Access article distributed under the terms of the Creative Commons Attribution License (http://creativecommons.org/licenses/by/2.0), which permits unrestricted use, distribution, and reproduction in any medium, provided the original work is properly credited. The Creative Commons Public Domain Dedication waiver (http://creativecommons.org/publicdomain/zero/1.0/) applies to the data made available in this article, unless otherwise stated.